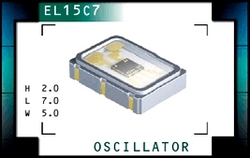 Costa Mesa, CA (PRWEB) January 28, 2009
Ecliptek Corporation is pleased to announce that the frequency range for its line of high frequency LVDS and LVPECL ceramic surface mount 5mm x 7mm oscillators is being increased to 312.500MHz.
The E13C7 / E15C7 (LVPECL output) and EL13C7 /EL15C7 (LVDS output) are available in a variety of configurations including frequency stability as low as ±20ppm maximum and an operating temperature range of -45°C to +85°C. Other features include tri-state (high impedance), complementary output, and duty cycle of 50 ±5(%). Supply voltage for these oscillators is 3.3VDC for the E13C7 and EL13C7 and 2.5VDC for the E15C7 and EL15C7 series. These products also offer low RMS phase jitter of 0.4pSec typical, 1pSec maximum as well as exceptional phase noise performance.
Available frequencies include
77.760MHz, 80.000MHz, 100.000MHz, 106.250MHz, 125.000MHz, 127.000MHz, 128.000M, 133.000MHz, 133.333MHz, 150.000MHz, 155.520MHz, 156.250MHz, 161.1328MHz, 166.000MHz, 175.000MHz, 187.500MHz, 200.000MHz, 212.500MHz, 240.000MHz, 250.000MHz or 312.500MHz
These Ecliptek products offer excellent low jitter clocking solutions for Fiber Channel, Gigabit Ethernet, SONET, Storage Area Networks, Infiniband, and Digital Video, as well as any application that demands high performance at a competitive price.
Founded in 1987, Ecliptek has become a leading supplier of frequency control products to the electronics industry. Ecliptek provides unparalleled quality, complete engineering support, excellent customer service and innovative products to their OEM customers and distributors worldwide. Complete information on company operations or any of Ecliptek's quality frequency control devices can be obtained by calling 1-800-ECLIPTEK or by visiting Ecliptek's internet site at http://www.ecliptek.com.]
###