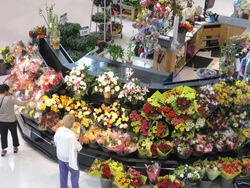 You can easily add or remove bouquets from the vases, which are set securely in specially designed vase holes. This results in your cooler looking full at all times
Syracuse, NY (PRWEB) January 29, 2009
Floratech's new EuroVue floral cooler gives supermarket floral departments a different look: it's only 65 inches high and uniquely cools the flowers without relying on a confining ceiling or sidewalls. This preserves lines of sight in your supermarket and provides excellent visibility for your flowers to help you boost your sales. In addition, EuroVue's patented Always Open® design maintains ideal temperature and humidity and keeps flowers fresh without the barrier of doors that inhibit impulse purchases.
"EuroVue was designed in conjunction with one of our international customers that wanted to create both a wall of color effect and an unobstructed line of sight into the rest of its store," explained John Patalita, Floratech division manager. EuroVue's unique features include adjustable shelving that positions cut flower bouquets at optimal display and shopping angles and can be quickly converted to showcase arrangements. "You can easily add or remove bouquets from the vases, which are set securely in specially designed vase holes. This results in your cooler looking full at all times," Patalita said. For merchandising versatility, the EuroVue floral cooler can be ordered in any length or color to suit your store's layout and décor and matching dry sections for complementary floral accessories, he added.
Floratech has been in the business of supermarket floral equipment since 1986, when it pioneered open coolers specifically designed for flowers. Today, Floratech specializes in modular units that can be configured in any size, shape or color. The company's display cases range from small, portable six-vase coolers to those with 125+ vase capacities that can be installed against a wall or designed as wraparounds that encourage customers to linger while shopping. The refrigerated floral coolers also are available in the popular, low-profile height to warehouse-type store sizes. A variety of environmentally friendly refrigerants may be ordered and the equipment can be specified with self-contained or remote refrigeration. All Floratech equipment uses powder-coated aluminum components for durability; eco-friendly cabinet materials can earn your supermarket LEED credits as well.
Floratech currently designs and manufactures floral coolers for leading supermarkets in the US, Canada and Europe, and is expanding internationally to Central and South America. Dedicated account managers who speak English, Danish, French, German, Italian, Polish, and Spanish expedite customer requests and are on call to help answer merchandising or technical questions from around the world.
Floratech® is a division of Air Innovations®, a design-build air conditioning company that serves the supermarket, restaurant, vending machine and wine industries.
For more information about Floratech floral coolers, phone direct 315-452-7407, call toll-free 800-535-3295 or visit http://www.floratech.net
###