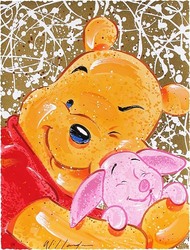 Ogden, UT (PRWEB) January 28, 2009
Sanders Art Studio.com in Ogden, Utah is excited to kick off 2009 with new Disney Fine Art.
We are excited to kick off 2009 with the first piece in our 2009 Holiday Collection to celebrate Valentine's Day: David Willardson's VIP- Very Important Piglet.
We are offering a Pre-Release retail of $495.00 that will be applicable to all orders placed by Friday January 30. After January 30, the retail price will become $550.00.
VIP- Very Important Piglet is a distinctive Serigraph on hand deckled paper from an edition of 50.
The 2009 Holiday Collection will consist of four limited editions, each by a different artist, combining the magic of Disney with four inspirational holidays throughout the year: Valentine's Day, Independence Day, Halloween and Christmas.
All four editions released as part of the 2008 Holiday Collection are Sold Out and we expect the same for this year's Holiday Collection.
David Willardson - Artist Bio
Caught up in the make-believe world of animation, the creativity and whimsy of the characters, and the early execution of the cartoon art all were factors in directing the professional path chosen by David Willardson.
Willsardson was commissioned to paint the major movie posters for Disney Animation over a period of fifteen years. A small sample would include Bambi, Cinderella, Snow White, Little Mermaid, Aladdin, and The Lion King.
While painting the characters in the traditional way, Willardson also developed an energetic, colorful, stylized, dynamic, graphic painting style that not only captures the personality and emotions of the characters BUT captures their soul.
Please sign up for our email mailing list to see new Artist work in February 2009!
Now that's magic! Free Shipping on all orders.
###