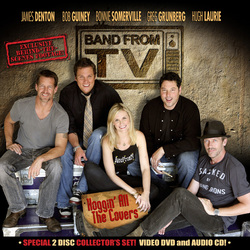 Beverly Hills, CA (PRWEB) January 29, 2009
Band from TV made their television talk show debut January 16, 2009 on The Tonight Show with Jay Leno resulting in a 500% jump in sales for "Hoggin All the Covers", the Band's newly released CD/DVD produced by Generosity Records, LLC and sold exclusively through Amazon.com with all of the Band's proceeds being donated to charity. "Hoggin All the Covers" quickly shot to a #1 sales ranking in Amazon's music store and today steadily maintains a lofty top 15 sales position within the online retailer's music store.
Band from TV will also hold an exclusive online sweepstakes with Amazon.com beginning January 26, 2009. Visitors to the Band's page on Amazon.com (http://www.amazon.com/bandfromtv) will have the opportunity to enter to win a Gibson guitar signed by SAG Award winning Hugh Laurie, James Denton, Greg Grunberg, Bob Guiney and other members of the band. The sweepstakes will run for 30 days and there is no purchase necessary to enter.
The DVD/CD features live performances of 13 classic rock n' roll hits such as "Piece of My Heart," "Pink Cadillac," and "The Letter." Shot in a state of the art High Definition facility in front of a live audience, the concert DVD includes never before seen footage of rehearsals, candid moments amongst the band members, exclusive interviews and information on the array of charities that will benefit from the project.
Originally formed by actor Greg Grunberg(drums) for a special one-night only performance, Band from TV (Bandfromtv.org) has evolved into a veritable fundraising force. Joined by fellow actors Hugh Laurie(vocals, keyboards), James Denton(vocals, guitar) and Bob Guiney(vocals), Band from TV has taken the stage to raise almost two million dollars for charitable causes. Although not featured on this DVD, new band members include Jesse Spencer on violin and Adrian Pasdar on guitar.
"Hoggin All the Covers" is a joint production of Generosity Records, LLC and Ho'okipa Capital Partners. Generosity Records, LLC., the brainchild of Los Angeles businessman and entrepreneur Kurt A. Benjamin, is a trend-setting independent music and entertainment company dedicated to financing and producing entertainment related projects. Through unique marketing efforts and relationships with charities their business allows the entertainers and partners involved to maximize their charitable commitments.
For more information: Susan Madore, Guttman Associates, 310.246.4600, Susan (at) Guttmanpr.com
###