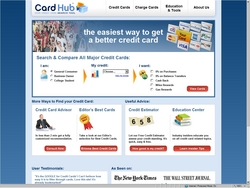 It must be seen to be believed.
Arlington, VA (PRWEB) January 28, 2009
Building upon the rampant success of its credit card search engine, Evolution Finance, Inc. announced today a number of new features on CardHub.com, including the release of two new proprietary services: a Credit Card Advisor and a Credit Score Estimator.
Both new services are free and "revolutionary for the way consumers search, compare, and apply for credit cards," said CEO Odysseas Papadimitriou.
Industry-First Features:
Card Hub's new Credit Card Advisor allows users to receive a fully customized recommendation for the credit card best suited to their credit history and needs, without requiring them to submit sensitive personal information. A proprietary algorithm, built by the Card Hub team of industry veterans, sifts through more than 100 credit cards for each consumer. From start to finish, the process takes less than two minutes.
"No other site has anything like this," Papadimitriou said. "It must be seen to be believed."
The new Card Hub Credit Score Estimator determines each person's approximate credit standing for free, based upon a few simple questions. The benefits of this are twofold: consumers don't waste time looking at cards that don't match their credit standing, and their credit score isn't damaged through excessive credit inquiries by companies that don't approve them for credit cards.
About Evolution Finance, Inc. and CardHub.com
One of the five "hottest start-up companies in the mid-Atlantic region," Evolution Finance was created out of a passion to give more financial control to everyday people. Card Hub, its first service, is a credit card portal that puts credit card reform into the hands of consumers. Using the Card Hub proprietary tools, consumers are able to quickly find the best credit card for their needs.
###