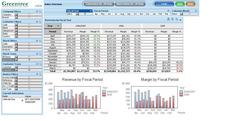 As mid market businesses are a key target for us, extending our presence with Greentree was a logical fit. Greentree are a fast growing and successful local technology company that assists organisations to improve their business processes. QlikView helps Greentree customers make better use of transactional data for fast, effective decision making
Sydney, NSW (PRWEB) January 29, 2009
Inside Info, the Australian provider of QlikView, the world's fastest growing business intelligence software and Greentree International, developer of financial and business management software, today unveiled a new partnership and joint strategy to deliver powerful, interactive analytics targeting medium sized enterprises in Australia.
Greentree has now integrated QlikView Business Intelligence into its Enterprise Resource Planning (ERP) suite which covers a host of functions including financials, distribution, job costing, supply chain management, manufacturing, HR, CRM, service and support, asset management and e-business.
"We originally considered developing our own business intelligence tool, but found that QlikView was a seamless - empowering fit, for both our ERP suite and target market," said Paul French, Communications, Greentree International.
QlikView is unique in the fact that it delivers powerful, visual and interactive analysis of Greentree transactional data that can be delivered within weeks, has a low entry point for smaller customers but can scale for larger ones, and still be as simple to use as a Web browser.
"As mid market businesses are a key target for us, extending our presence with Greentree was a logical fit. Greentree are a fast growing and successful local technology company that assists organisations to improve their business processes. QlikView helps Greentree customers make better use of transactional data for fast, effective decision making," said Stuart Barnard, Managing Director of Inside Info. "This is typical of the specialist relationships we are currently looking to increase. QlikView helps software companies provide their customers an enhanced analysis and reporting capability based on a globally successful BI software platform. This allows companies like Greentree to create well rounded solutions, grow revenue, improve customer satisfaction and enhance business performance."
About Greentree:
Greentree International specialises in developing effective financial and business management software for medium sized enterprises. In its target market Greentree is arguably the most successful fully integrated enterprise-wide solution in Australia and New Zealand. Greentree's wealth of reference customers are a testament to its value to hundreds of businesses across a wide range of industry sectors. The Greentree Partner Network provides a highly skilled local team that commit to developing a close working relationship with clients. Key advantages from this pivotal partnership are assurances of first - class support, ongoing business expertise and committed shared goals. In conjunction with its partners Greentree delivers a compelling proposition for business growth and competitive advantage. For more information on Greentree visit http://www.greentree.com.
About Inside Info:
Inside Info is the exclusive distributor and local representative of QlikView in Australia - the world's fastest growing business intelligence software according to IDC. QlikView works the way your mind works - making associations by connecting data from many sources in a few clicks. This patented in-memory association technology brings fast results and better decision making. QlikView is intuitive to learn, simple to modify and can be deployed in a few weeks. Inside Info have over 200 QlikView customers, globally QlikView is the flagship product of QlikTech who has over 449,000 users at more than 10,000 customers in 92 countries.
Inside Info offers a fully functional, free trial of QlikView. For more information, please visit http://www.insideinfo.com.au.
For media enquiries, please contact:
Jo Balfour
Progressiva
jobalfour (at) progressiva.com (dot) au
+61 2 9365 6258
+61 405 542 018
###