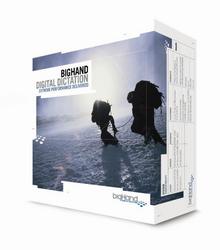 London, UK (PRWEB) January 29, 2009
BigHand has today announced that Howells, a Top 250 firm and one of the largest suppliers of Legal Aid in the country, has implemented the BigHand digital dictation workflow system to streamline dictation and transcription for 138 users across its Sheffield and Rotherham sites. As a result of the implementation, Howells now also provides administrative support via terminal services for two local Community Legal Advice Centres, in line with the recent announcement of legal aid 'Route Maps'.
Howells suffered extensive flood damage late 2007, wiping out much of its tape dictation equipment. John Ellis, IT Technician at Howells had been considering the switch to digital dictation for some time in line with the firm's expansion plans, and therefore approached BigHand for a rapid response and implementation schedule that would minimise downtime as much as possible. With the largest digital dictation implementations team in the UK, BigHand was able to deliver the project in line with the firm's timescales, whilst retaining a first class level of service. John commented:
''The cost of sourcing old tapes and dictation machines has ballooned over the past year or so as the equipment starts to go out of production, plus as we experienced first-hand, mechanical equipment does not provide any provision for business continuity. The life of tape equipment is short and therefore with regard to the long term cost implication of maintaining it, moving to digital dictation makes financial sense.
Since implementing the BigHand workflow system we have been able to support both our staff and additional advice centres in a way which was simply not possible using tapes. Document production backlogs have been significantly reduced and our productivity improved.
I have been very impressed with BigHand, and would certainly recommend them to other firms looking to streamline processes and cut costs.''
During 2008 legal aid firms Venters and Glaisyers announced return on investment as a result of implementing BigHand digital dictation. Venters reported saving £3,000 per lawyer within 12 months of implementing the system, and Glaisyers an increase in fee earning capacity with zero growth in its support team.
Contact:
Jo Beckwith, BigHand. Tel: +44 (0)20 7940 5946
About BigHand
BigHand is based out of Chicago, London, Sydney and Toronto. BigHand is the leading digital dictation vendor in the global professional services sector. BigHand3 was awarded 'Best of Breed System of the Year' at the Legal Technology Awards for 2008, and BigHand Mobile (BlackBerry Edition) was voted 'Mobile Product of the Year' at the CNET Business Technology Awards 2008. BigHand has also been nominated in the Sixth Annual Law Technology News (LTN) Awards for 2009 as 'Dictation System of the Year' and 'Mobile Tool of the Year'. Further information is available at http://www.bighand.com
###