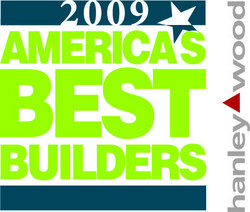 But our America's Best Builder winners manage to do it all. That is an amazing achievement, and even more so during these difficult times.
Washington, DC (PRWEB) January 29, 2009
BUILDER magazine announces the winners of this year's America's Best Builder award. Three builders were selected to receive the prestigious award.
The 2009 America's Best Builder winners are:

The Dragas Companies, based in Virginia Beach, Va., which impressed the judges with its ultra-conservative fiscal policies, its discipline in adhering to its core business principles, and its ability to produce exemplary financial results without inflating the price of its homes.
Estes Builders, based in Sequim, Wash., which was applauded for a commitment to continuous improvement, its focus on being a systems-driven company, and the achievement of delivering 99 percent of its homes without a known defect since 2002
EYA, based in Bethesda, Md., a second-time winner of the award. EYA's notable achievements include its commitment to high-quality design, building in areas featuring life within walking distance, and industry leading results on homebuyer satisfaction and referral sales.
"Most builders excel in just one discipline, be it customer service, great design, construction expertise, or financial acumen," said Denise Dersin, editor in chief of BUILDER magazine, the leading magazine of the home building industry. "But our America's Best Builder winners manage to do it all. That is an amazing achievement, and even more so during these difficult times."
A panel of industry leaders selected the America's Best Builder honorees this past September during the National Association of Homebuilders Fall Board meeting in San Diego, California. The three winners showed outstanding performance in five important areas of running a home building business: finance/operations; customer service/quality; community/industry service; design/construction; and marketing.
The full article about the 2009 America's Best Builders will appear on BUILDER's Web site http://www.builderonline.com in March as well as in the March 2009 issue of BUILDER magazine.
For more information about the America's Best Builder Awards competition, please contact Sola Ayeni-Biu at BUILDER magazine, 202-729-3506.
About Hanley Wood:
Hanley Wood, LLC, is the premier media and information company serving housing and construction. Through four operating divisions, the company produces award-winning magazines and Web sites, marquee trade shows and events, rich data and custom marketing solutions. The company is also North America's leading publisher of home plans. Hanley Wood Business Media (Washington, D.C.), publishes 30 award-winning residential and commercial construction titles, including Builder, Digital Home, architect, Custom Home, Concrete Construction and residential architect. Hanley Wood Business Media also offers the construction industry's foremost collection of Web sites, including Builder Online, Remodeling Online, and ebuild, the comprehensive online guide to building products, as well as the largest collection of house plans online through eplans.com and Dream Home Source.
Founded in 1976, Hanley Wood is one of the ten largest B-to-B media companies in the United States. Hanley Wood is owned by affiliates of JPMorgan Partners, which uses CCMP Capital Advisors to manage this investment.
###