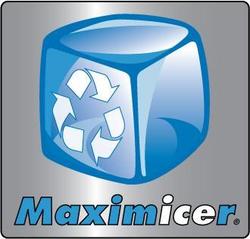 With the renewed interest in energy savings
Leander, TX (PRWEB) January 29, 2009
Maximicer, a leading provider of ice innovations for the food and beverage industry, makes products for commercial ice machines and ice-beverage dispensers which recycle wasted energy and improve the operational efficiency of the machines.
At the National Association of Foodservice Equipment Manufacturers (NAFEM) in Orlando, Florida Maximicer is exhibiting and displaying its namesake product line.
Held every two years, the show brings together foodservice equipment manufactures with those looking for innovative product solutions.
"With the renewed interest in energy savings" says president J. L. Love, "and with the increased cost of energy, Maximicer should be on every commercial-size ice machine and ice-beverage dispenser".
Maximicer uniquely recycles wasted energy in a manner that also greatly improves the efficiency of the machines. In most cases, enough energy is saved to pay for the cost of the equipment in one to two years.
"In the past companies weren't interested in saving several hundred dollars per year from saving energy. Their priority was to budget for other things", says Love. "But with the Green Revolution gaining momentum, folks are becoming a lot more energy conscious and companies are recognizing that those saved dollars go directly to their bottom line."
Maximicer will be in Booth 732 at the NAFEM show in the Orlando Civic Center. You can learn more about the company at their website http://www.maximicer.com.
About Maximicer
Maximicer is a leading provider of ice innovations for the food and beverage industry. Founded with technology to improve ice machines and later expanding into drink dispensers, Maximicer products are unique to the industry. We help our partners by enabling soda fountains and ice machines to perform at their highest level when needed most. Our products are widely recognized and successfully deployed across various environments. Today, Maximicer is an industry leader in supplying cost-effective ice and beverage solutions that are environmentally friendly.
This press release was distributed through eMediawire by Human Resources Marketer (HR Marketer: http://www.HRmarketer.com) on behalf of the company listed above.
###