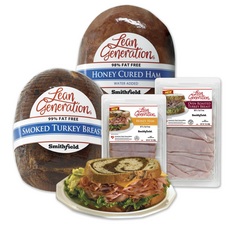 Lean Generation Deli's partnership with The National Breast Cancer Foundation is an extremely effective way for Smithfield Foods to help give back to the communities that support our brand
Smithfield, VA (PRWEB) January 29, 2009 -
Smithfield Foods, Inc. (NYSE: SFD) announced today the completion of its first year of partnership with The National Breast Cancer Foundation in
effort to save lives by increasing awareness of breast cancer. Smithfield's Lean Generation Deli (http://www.leangenerationdeli.com) contributed more than $135,000 during 2008
"Lean Generation Deli's partnership with The National Breast Cancer Foundation is an extremely effective way for Smithfield Foods to help give back to the communities that support our brand," said Michael Gloyne, VP/GM Smithfield Deli Group. "Every consumer purchase of
Lean Generation generates a contribution that goes directly towards early breast cancer detection and treatment."
Lean Generation® deli offers a full protein line of Ham, Roast Beef and Turkey that meets consumers' needs for healthfulness as well as social consciousness. Available in both bulk and new 'Single Slice At A Time' Re-closable Packaging, all Lean Generation® deli products meet the American Heart Association guidelines for healthfulness, and Smithfield's guidelines for wholesomeness.
"We are pleased and honored to have Smithfield Foods as a strategic partner to help us in the fight against breast cancer," said Janelle Hail, founder of the NBCF.
The National Breast Cancer Foundation mission is to save lives by increasing awareness of breast cancer through education and by providing mammograms for those in need. Since its
inception, NBCF has played a vital role in helping patients become survivors.
About National Breast Cancer Foundation (http://www.nbcf.org):
NBCF was founded in 1991 by cancer survivor, Janelle Hail. NBCF's mission is to save lives by increasing awareness of breast cancer through education and by providing mammograms for those in need. In the past year, NBCF funded more than 25,000 free mammograms for
underserved women and launched http://www.nbcf.org, an innovative online community considered to be 'the Facebook for cancer survivors.'
About Smithfield Foods (http://www.smithfieldfoods.com):
Smithfield Foods is a global food company with operations in 13 countries through wholly-owned subsidiaries and joint ventures. Headquartered in Smithfield, Virginia, the company produces more than 50 brands of pork, beef and turkey products and more than 200 gourmet
foods. Employing more than 57,000 people across the globe, with sales of $12 billion, Smithfield Foods is the leading processor and marketer of fresh pork and packaged meats in the United States, as well as the largest producer of hogs. For more information, visit
http://www.smithfieldfoods.com
Contacts:
Neal Hail (National Breast Cancer Foundation)
972-248-9200
nhail (at) nbcf.com
Harry Tillman (Smithfield Deli Group)
757-357-8113
harrytillman (at) smithfieldfoods.com
###