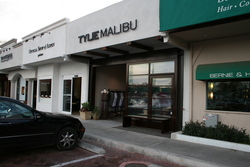 Malibu, CA (PRWEB) January 30, 2009
Los Angeles Designer Lisa Izad brings her 10 year old label, Tylie Inc., to Malibu's country Mart. The flagship store features the latest designs from Tylie Malibu Hand bags, accessories, boots, Clothing and the New, High-end fashion line Piper & Forest.
The opening of the first Tylie store in Malibu, where the label was founded, has allowed Izad to come full circle. Tylie inc. has always been known for its fine Italian leathers, exquisite hardware and ability to take custom orders. Newly added, customers will be able to place special orders for any items unavailable in the store. Manufacturing in Los Angeles allows the brand to meet all needs of its clientele, stay on trend and maintain quality control.
The country mart store was designed to replicate the aesthetic of Malibu's rugged landscape. The storefront's open door invites shoppers to walk in to view the amazing wood, stone and glass that make up the modern space created by Venice, Ca architect Lewin Wertheimer. Izad hopes that everyone that enters the 3835 cross creek flagship store will feel welcome and find something unique.
###