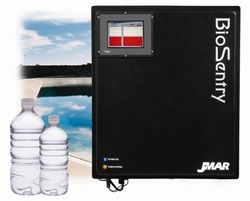 BioSentry® can be used as both a real-time contamination alarm and as a biological monitoring device to complement and enhance the water quality safeguards used by the pharmaceutical industry today.
San Diego (Vocus) January 29, 2009
JMAR Technologies, Inc. (OTCBB: JMAR), a leading innovator in the development and commercialization of sensing systems for the detection of chemical, biological, radiological, nuclear and explosive (CBRNE) materials, today announced that JMAR's microbial contamination detection expert John A. Adams, Ph.D. will be speaking at the 2009 International Foundation Process Analytical Chemistry (IFPAC) annual meeting on Wednesday, January 28, 2009, in Baltimore, Maryland.
The IFPAC annual meeting, combining industry leaders and research institutions with officials from the U.S. Food and Drug Administration (FDA), focuses on the latest developments in emerging technologies: Process Analytical Technology (PAT), Quality by Design (QbD), and Real-Time Analytics. Dr. Adams was invited by Pfizer to present "Automated Real-Time On-Line Measurement of Bacteria in Water using Multi-Angle Light Scattering (MALS) Techniques." JMAR successfully uses MALS technology in its award-winning, laser-based BioSentry® product, the only commercialized, EPA tested, online system for real-time detection of microbial contamination in water.
BioSentry® satisfies the need for rapid, real-time microbial detection in pharmaceutical processing. Immediate detection and classification integrates true quality control into process water by constantly monitoring for biological contaminants that could result in the loss of product, manufacturing recalls, and potential liability for consumer illness.
"We are honored to have this opportunity to showcase BioSentry® as a Rapid Microbiological Method in pharmaceutical manufacturing," said JMAR's Chief Executive Officer, C. Neil Beer, Ph.D. "BioSentry® can be used as both a real-time contamination alarm and as a biological monitoring device to complement and enhance the water quality safeguards used by the pharmaceutical industry today."
Frost & Sullivan recognized JMAR's BioSentry® as the leading innovative approach to water quality monitoring in their 2008 Biological Detection Product of the Year Award.
To be added to JMAR Technologies' investor lists, please contact Haris Tajyar at 818-382-9702.
To see a video presentation about JMAR's BioSentry®, visit http://video.google.com/videoplay?docid=-684619603716680223
About JMAR
Coupled with its established expertise in building advanced laser systems, JMAR provides solutions for a broad range of military, industrial and commercial applications. The Company draws on more than twenty years of experience and twenty-nine patents and patents pending in photonics, laser and detection technologies to develop products and solutions that address some of the world's most pressing issues such as water quality, hazard detection and homeland security. JMAR's vision is to continue to develop innovative technologies and products that support the advancement of global health, safety, and security initiatives. For further information on JMAR Technologies, please visit http://www.jmar.com.
About IFPAC
The International Foundation Process Analytical Chemistry is a world-wide, not-for-profit organization dedicated to the advancement of Process Analytical Technology and Chemistry. It provides a platform for the interaction of ideas and sharing of information among industry, research institutions, government agencies, and the manufacturers and suppliers of Process Analytical Chemistry and Technology. IFPAC's ultimate goal is to understand and ensure quality control in the manufacturing process. The organization promotes and advances the key components and benefits of innovative manufacturing and continuous quality assurance.
Forward Looking Statements: This news release contains certain "forward-looking statements." Forward-looking statements are based on current expectations and assumptions and are inherently subject to risks and uncertainties, some of which cannot be predicted or quantified, and many of which are beyond the Company's control. Actual results could differ materially from these forward-looking statements as a result of a number of factors, including the uncertainty of acceptance in the market for our products and technologies or the acceptance of our customers' products or technologies which incorporate our products and technologies, the failure of our technology to perform as predicted, competition from alternative technologies, uncertainties as to the size of the markets, cost and margins for JMAR's products, current or future government regulations affecting the use of JMAR's products, the lack of availability of critical components, the degree of protection from future patents, other risks associated with the development or acquisition of new products or technologies and those risks detailed in the Company's Form 10-K for the year ended December 31, 2007 filed with the SEC. Given these risks and uncertainties, investors are cautioned not to place undue reliance on such forward-looking statements and no assurances can be given that such statements will be achieved. JMAR Technologies, Inc. does not assume any duty to publicly update or revise the material contained herein.
# # #