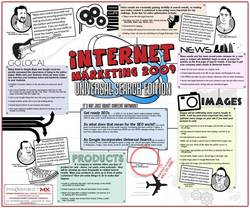 Internet Marketing 2009: Universal Search Optimization
Lancaster, PA (PRWEB) January 29, 2009
ProspectMX announced Wednesday the release of "Internet Marketing 2009: Universal Search Optimization," a free PDF download that brings changes in the search marketing industry to light and educates businesses that use the internet in their marketing plans on what to watch for in the coming year.
Google indicated numerous times towards the end of 2008 that universal search results will become more visible during the first part of 2009. Changes the search engine makes to their algorithm affect the way millions of consumers surf the web. According to estimates from Search Engine Land, Google occupies between 68 - 72% of search industry market share.
In order for businesses to succeed with their internet marketing campaigns in 2009, understanding universal search and how it can impact marketing ROI is necessary.
The ProspectMX team provided their own tips on how websites should be optimized for universal search, but were not alone in the creation of this chart. Six of the most influential internet marketers also contributed insight on how universal search will change the landscape of an industry that, Forrester Research projects, will generate $30 billion dollars in 2009. Expert commentary on universal search was provided by:

Danny Sullivan, Editor In Chief, Search Engine Land
Aaron Wall, Author, SEO Book
Rand Fishkin, CEO, SEOmoz
Michael Gray, President, Atlas Web Service
Rae Hoffman, President, MFE Interactive
Brian Mark, CTO, Toolbarn.com
"Internet marketing is different than most industries with tough competition because we all help each other out," said ProspectMX Co-Founder Dave Conklin. "The goal of this chart is to help others in our position to explain universal search to their customers."
Matt Cutts, the head of Google's Webspam team, inspired ProspectMX to put together "Universal Search Optimization." Cutts addressed the increased appearance of universal search results in an interview with Mike McDonald of WebProNews on November 18, 2008, and the project began the following month.
In place of traditional search results which feature related links to different web pages, universal search results will begin to include a wider variety of web content. Over the next year, millions of web surfers who use Google can expect to see more videos, images, local business listings and products mixed into Google's lists of recommended web pages.
"Internet Marketing 2009: Universal Search Optimization" is the second free downloadable poster produced by ProspectMX. Last March, the Pennsylvania-based internet marketing company released "Link Building 101," a chart that has been downloaded over 6,000 times and used by search engine marketing professionals worldwide. Industry experts like Todd Malicoat have described "Link Building 101" as "a great way to display the elements that comprise better search rankings."
Anyone interested in learning about universal search can download "Universal Search Optimization" for free by visiting ProspectMX.com. "Link Building 101" is also available for free on the site. Content for the Universal Search Optimization chart was compiled by Ashley Lichty. Design work was created by Adam Perry, ProspectMX's creative director.
ProspectMX was established in late 2007 by the founders of an Inc. 500 company as a provider of internet marketing services to clients nationwide. Organic SEO, link building, pay-per-click management, internet marketing consulting and SEO workshops are just a few of the services ProspectMX offers businesses of all sizes. Find information on receiving a free consultation with their internet marketing experts at http://www.prospectmx.com.
###