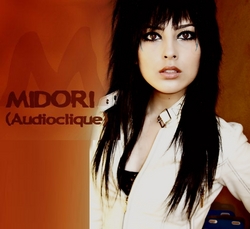 I'm so excited that we won this award
Santa Rosa, CA (PRWEB) January 29, 2009
Midori & Audioclique, a new independent artist from Santa Rosa in California, was honored in ABC Radio's Fame Games 2nd Annual Effigy Awards Ceremony. Midori was nominated for 9 Effigy Awards, and won the Effigy Award for Most Popular Artist of 2008. She was selected by popular votes of the internet and terrestrial radio listener base.
The Effigy category "Most Popular Artist" was one of the main awards given by the radio show. Midori's award was announced and presented by Tony Cowell, a Fame Games correspondent as well as brother and business partner of legendary American Idol judge Simon Cowell. Midori was also nominated for another major award, "Artist of the Year", and this award was given to Tulsa's independent band Stars Go Dim.
"I'm so excited that we won this award," said Midori. "Fame Games is such a great way to give independent artists the chance to be heard by thousands of people, and it's so cool that many of the listeners enjoy our stuff. There are tons of amazing bands and artists featured on Fame Games, and it's an honor to be played alongside them. This award is awesome, and we are all so grateful to have won it!"
Midori is a 16-year-old artist who debuted her songs from "Bring It" 9 months ago on her My Space site. In a nine-month span, her songs and voice were noticed by several online music sites, and now her songs can be downloaded from most of the major online distribution locations such as iTunes, Rhapsody, Amazon, and CD Baby.
Midori is currently working with Sony BMG music producer Automatic, who has this week's number 10 song, Bettina's "Cradle to the Grave", on Billboard's Hot Singles Sales charts.
"Midori fills a void in music that has been gone a long time," said Automatic. "Her music is innovative, creative, and lyrically stimulating. From the artist to the common folks, we can all get something from her music and message. Get ready, because Midori will be a household name."
Laura Krier (AKA DJ Crier on Fame Games) singer/songwriter and independent musician. said, "The first thing you notice about this band is their stand-out music. Then, when you get to know them deeper you realize they are all such good, genuine and nice people to work with. This winning combination is what has gotten them this far. It's not good enough to just be talented. The magical appeal is in how you treat everyone you meet. I suspect that's why their fan base is pummeling our site with votes! I love it!"
According to Paul Sedkowski, Songwriter and Producer and Fame Games Presenter, "Midori is one of those rare artists who connect with the listeners instantly. Why, that is isn't easy to explain. But her potential is undeniable and her support amongst Fame Games fans is massive!"
About Midori & Audioclique
Sixteen-year-old Midori Longo fronts Audioclique, a band characterized by a mix of diverse classic rock and modern rock influences, creating a classic yet very unique and current sound. The band is currently in the studio working on their second CD release, due out in the Summer of 2009. Midori's song "Go" was nominated for the 2008 Best Indie Pop Song by the Hollywood Music Awards, which took place at the Kodak Theater in November 2008. She was also nominated for Best Vocalist by the Los Angeles Music Awards in 2008. To learn more about Midori & Audioclique, visit http://www.midorilongo.com or their MySpace site at http://www.myspace.com/midorilongo.
About Fame Games
MMI's Fame Games currently airs 6 shows Monday through Friday on ABC Radio Networks, including the all new Global Breakthrough Chart, and online at http://www.meermusic.com and http://www.famegamesradio.com. When artists submit their original song(s) to Fame Games they're reviewed by experts as well as peers and listeners. With fan support and positive reviews, songs advance through several stages until they reach the on-air shows. Each week a "Track of the Week" is declared and the next big radio hit is discovered!
# # #