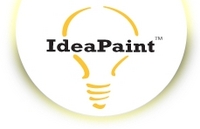 We are getting great feedback from customers who are excited to have found a dry-erase surface that is cost-effective, functional and very durable. But it is especially gratifying to hear how schools are benefiting from IdeaPaint
Boston, MA (PRWEB) January 29, 2009
IdeaPaint (http://www.ideapaint.com), the manufacturer of innovative products that enable enlightened and creative thinking, is helping transform the learning experience of students from kindergarten through college. The company's flagship product, IdeaPaint™, is a breakthrough, commercial-grade paint that cost-effectively turns any smooth surface into a high-performance dry-erase writing surface. Chosen recently by Target as the paint used in its Target Volunteers school library makeover program, IdeaPaint has been applied in inner city libraries across the country, creating dynamic learning environments for children in need. The product is gaining momentum in the education market with school districts, colleges and universities around the country selecting IdeaPaint -- a low cost solution -- to help create spaces within their schools that evoke creativity and foster teamwork.
IdeaPaint is a patented, single-coat paint that is easy to apply and is the most cost-effective dry-erase surface on the market. It has been proven to outperform and outlast traditional whiteboards through independent laboratory testing. Educators have been particularly positive about IdeaPaint's ability to efficiently transform classroom walls into a creative canvas that promotes greater collaboration -- especially when designing a 360° learning environment or when team teaching is in effect.
"We are getting great feedback from customers who are excited to have found a dry-erase surface that is cost-effective, functional and very durable. But it is especially gratifying to hear how schools are benefiting from IdeaPaint," said John Goscha, IdeaPaint's Founder. "Target teamed up with us in part because using IdeaPaint meant they did not need to rip out chalkboards to create new surfaces--eliminating environmental issues and high replacement costs. The Braintree, Mass. school system covered old, dark chalkboards with IdeaPaint and found that it brightened the classrooms and had a positive impact on children's motivation to learn. Carnegie Mellon University's Tepper School of Business -- which boasts six Nobel laureates -- painted a faculty office and the professor was delighted to discover the ability to express his world of ideas in free form; above the desk, next to the door, all along the open wall."
The inspiration for IdeaPaint sprang from the education environment. Frustrated that their ideas wouldn't fit onto traditional flip charts or whiteboards, an entrepreneurial team of Babson College students led by John Goscha, began to develop ideas for limitless brainstorming and creative thinking tools. Upon graduation, they spent a number of years researching market needs and working with one of the foremost independent labs in the country to formulate what today is known as IdeaPaint. They also contracted with an independent research facility to test the finished product against the competition for durability and functionality -- which proved that IdeaPaint outperformed and outlasted dry-erase wall coverings and traditional whiteboards.
The Most Environmentally Friendly Dry-erase Product
One of the key requirements of the founders was that IdeaPaint be the most environmentally friendly dry-erase product available. The formulation focused on raw material utilization, energy and fossil fuel use as well as impact on air quality. As a result, IdeaPaint conforms to all U.S. EPA regulations (including California), is formaldehyde-free and has passed California 1350 as part of the GreenGuard certification process. When painted over a chalkboard, it eliminates chalk dust particles from the air. Plus, using IdeaPaint also can reduce the tens of millions of pounds of whiteboard materials that end up in landfills each year, as it is simply paint.
Today students from kindergarten through college -- and their teachers and professors -- are using IdeaPaint to encourage creativity and collaboration. It can be purchased online at http://www.ideapaint.com or through MDC Wallcoverings. The paint is sold in 50 square foot kits and costs $3.99 a square foot.
About IdeaPaint:
IdeaPaint is a manufacturer of innovative products and services to enable enlightened and creative thinking in any environment. The company's flagship product is IdeaPaint, a commercial grade paint that transforms any smooth surface into a seamless, high-performance dry-erase writing surface. The company is headquartered in Boston and on the west coast in San Francisco. For more information visit http://www.ideapaint.com.
# # #