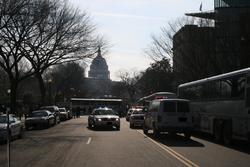 For our part several hundred of our agents were involved with the protection of property, secure transport of invited guests from around the world and the protection of high value individuals during their entire stay in Washington
Garden City, New York and Washington (PRWEB) January 30, 2009
It takes a great deal of planning and coordination to pull off a successful event and the event in question recently was the historical transition of power witnessed by the world in Washington during the Inauguration of President Obama. Months of planning went into the creation of a safe environment for those attending; the security plan for the newly elected president and guests was achieved with ease. The result: scores of inaugural attendees, foreign dignitaries, government officials and celebrities of all kinds watched history unfold without incident.
This world stage event began with the coordination of local law enforcement, the Secret Service and the National Guard, in total it has been reported that nearly 58 agencies worked to design the security plan. Global Security Associates was not unfamiliar to the protocol that was planned as it had also been part of the security detail at the 2005 inauguration of then President Bush. "For our part several hundred of our agents were involved with the protection of property, secure transport of invited guests from around the world and the protection of high value individuals during their entire stay in Washington," explains William McGuire, President and CEO of New York-based Global Security Associates.
Global Security Associates partnered with U.S. Sedan Services located in Washington to provide secure transportation from the moment private planes landed at Washington Dulles International Airport. "Because we provide security to many international airlines our role was to expand our offerings at Washington Dulles by providing agents who were highly experienced and credentialed for transport assignments in and around airport tarmacs," explains McGuire. Since 9/11 there are special requirements which involve extensive background checks and training in order for persons to access various areas of an airport, and tarmacs are considered a high risk and sensitive area requiring special credentials.
The security assignment for GSA took place over five days and also involved the establishment of a command center nearby to monitor the environment and traffic flow of people and vehicles. "Our command center was set up in the Capitol to monitor the changing conditions in the movement of people and intelligence which would affect our agents escorting dignitaries. It was also vital to remain in contact with Dulles Airport to ensure the position of our drivers and vehicles before, during and after the event," McGuire explains.
The successful outcome of this and other events, McGuire says belongs to the vast and changing details that security agencies such as GSA practice and prepare for during the planning stages. "On the day of this historical inauguration our agents were part of the expert security force which showed the world the outcome of creating a security presence in an often unstable world." The company reports there was very little chaos amongst those attending which put estimates at nearly two million.
About Global Security Associates:
Global Security Associates, LLC, (GSA) is recognized as a leading emergency response provider, aviation and executive protection security firm. The company provides security reviews and personnel to companies and it's executives throughout the world. Most notably known for its work with national and international airlines, with 15 locations in the US and 10 international offices; companies depend on Global for providing daily security operations, on-going security design protocols, updates and training. GSA has also been a major security supplier to government agencies, Fortune 500 companies and international clients at locations in Europe, the Caribbean, North & Central Africa, South Africa, South America, Mexico, Asia and the Middle East including Saudi Arabia, Lebanon and Jordan.
Global Security Associates are a strategic partner with the International Air Transport Association (IATA) as well as an active member of the American Society of Industrial Security (ASIS), the National Cargo Security Council (NCSC), and the International Association for Counter-terrorism & Security Professionals.
###