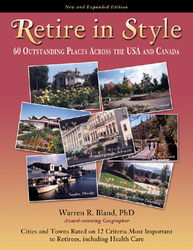 Burlington occupies a lovely site on several natural terraces overlook Lake Champlain and New York's Adirondack Mountains
Chester, NJ (Vocus) January 30, 2009
Around Valentine's Day, the thoughts of many Americans, including those soon to retire, turn to love. This raises the question of whether some retirement towns might be more romantic than others. Dr. Warren Bland, an award winning geographer at Cal State, and author of Retire in Style: 60 Outstanding Places across the USA and Canada, published by Next Decade, Inc. (http://www.nextdecade.com) has just released his new "Top Ten" US picks for the most romantic retirement places in America.
Topping this year's list are Ashland, Oregon; Boulder, Colorado; Santa Fe, NM; Las Vegas, NV; Naples, FL; Hanover, NH; Burlington, VT; Savannah, GA; Charleston, SC; and Annapolis, MD. These towns are ranked on the basis of the beauty of their landscapes, climatic characteristics, quality of life, cost of living, and romantic appeal.
While places like Burlington, VT may not rate high on your romantic list, according to Bland "Burlington occupies a lovely site on several natural terraces overlook Lake Champlain and New York's Adirondack Mountains".
Dr. Bland's model uses 12 criteria most important to retirees. They are landscape, climate, quality of life, cost of living, transportation, retail services, health care, community services, cultural activities, recreational activities, work/volunteer activities, and crime. Each place discussion in "Retire in Style" includes 5-6 pages of text, plus a beautifully crafted illustration page featuring a climatic table, a 12-variable rating table, and a map of the city and its surroundings.
Bland is a well known expert in his field. He has appeared on Fox Business News, Bloomberg News, MSNBC, CNN, and has been quoted in AARP Magazine (http://www.aarp.com ), the NY Times (http://www.nytimes.com), the LA Times, Consumer's Digest and US News and World Report, to name just a few. His book, which is published by Next Decade, Inc., and retails for $22.95, is available through all major wholesalers, at leading bookstores and on the Web at http://www.amazon.com and a variety of other electronic bookseller sites.
Press Contacts: Next Decade Inc., Barbara Kimmel, Publicist (800) 595-5440 or via email at Barbara(at)nextdecade.com; http://www.nextdecade.com
About Next Decade, Inc.:
Next Decade, Inc. selectively publishes a small number of high quality nonfiction reference books. Barbara Kimmel, MBA is the publisher. She is also an experienced and affordable publicist @http://www.barbarakimmel.com for clients in a wide range of professional fields. Barbara has placed clients on national television and radio and in virtually every major magazine and newspaper in the US and Canada.
###