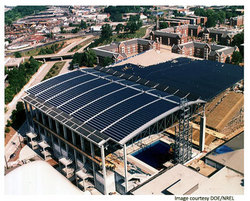 If you think about it, there is something miraculous about taking the afternoon sun, redirecting or storing it's power and then piping it into the facility for lighting and other uses
Navajo, AZ (PRWEB) January 31, 2009
Clearly positioning itself to take maximum advantage of President Obama's Energy and the Environment agenda, Rolling Hills Ranches has made the decision to utilize renewable energy consultant NRG Shift to maximize return on investment for this area of their projected project. Their goal is to create new jobs with their intermodal port project in the Navajo, AZ, continuing the development of land that already has an existing rail spur operated by the Salt River Project coal-fired plant which connects to BSNF's Railway Co's current lines. Rolling Hills Ranch intends to leverage alternative, renewable sources of power generation to do their part in the building a clean energy future.
"If you think about it, there is something miraculous about taking the afternoon sun, redirecting or storing it's power and then piping it into the facility for lighting and other uses," says Brandon O'Donnell, Managing Director of NRG Shift. "There are significant up-front costs for equipment, but the systems run virtually maintenance-free for decades using today's technologies, ensuring excellent return on investment."
In order to meet the President's call for 10 percent of electricity coming from renewable energy sources by 2012, Rolling Hills Ranch plans to add solar arrays to their intermodal port facility. Additionally, they hope to encourage current and future land owners to capitalize on energy efficiency and acquire new energy sources through solar arrays throughout the properties. As the point of their strategy for the alternative energy program, Rolling Hills Ranches has brought on NRG Shift as consultant in their plan to increase energy efficiency and leverage renewable forms of energy.
Inquiries from qualified manufacturers of solar products may be directed to NRG Shift in relation to the Rolling Hills Ranch project.
About Rolling Hills Ranch:
Rolling Hills Ranches is a developed ranch community located in northern Arizona. The ranch is comprised of 40-acre and larger lots suitable for home building or ranching and is ideal for those who wish to enjoy a rural lifestyle. Power and water are available and the community is bordered by paved roads on two sides. The commercial side of the project includes an intermodal rail port facing Interstate 40 which runs east and west through Arizona, also providing a buffer zone from the Interstate for ranch owners.
For more information about Rolling Hills Ranches and the residential development or commercial aspects of the intermodal rail port please contact:
Von Jenson
Rolling Hills Ranch Manager
Ph: 877-859-2254
Web: http://www.RollingHillsRanches.net
About NRG Shift:
NRG Shift assists clients in making informed decisions about investing in renewable energy. NRG Shift works with commercial enterprises, start-ups, investors, and builders to evaluate and plan many forms of cleantech, energy efficiency & renewable energy projects. Service offerings include project & program management, feasibility studies, technology research & evaluation, logistic & supply planning, meeting & seminar representation, training and public speaking services.
For more information about NRG Shift and how you can leverage their expertise on your next renewable energy project please contact:
Brandon O'Donnell
NRG Shift Managing Director
Ph: 612-703-7177
###