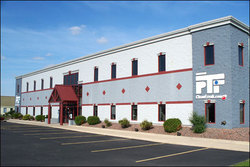 The Best Janitorial Supply Website
Appleton, WI (PRWEB) January 30, 2009
Appleton, WI -- CleanFreak.com was started as a general concept back in 1995 when their parent company Packaging Tape, Inc. (PTI) decided to expand it's product lines from packaging supplies to include janitorial equipment and supplies. When trying to envision for the future, the management team at the time decided that the internet was a potential source to educate their local customer base on the basic chemical supplies and procedures. This eventually led to the addition of some real basic equipment lines.
As the internet boom began in the late 90s, CleanFreak.com began to take on a national appeal, outgrowing the tri-state area that their local salesman service. As the new century came and went, an e-commerce shopping cart was added, and the website started taking online orders. As the years passed and the website grew larger and larger, the current goal came into effect. According to company President Tom Wagner, "The objective was, and still is, to be the number one source for janitorial knowledge, equipment, and supplies. Our hope is to be there for you, at any time, whether you need information on a product, or a video demonstration on how to clean a floor. We want to be able to help you do your job more efficiently, and most importantly, more cost effectively." CleanFreak's original idea was that most cleaning does not happen during normal business hours, so the website, which contains a huge resource center, is available 24 hours a day. "As long as you can get to a computer with an internet connection, we are there for you," reiterated Tom Wagner. The experienced customer service team mans the phones from 8 AM until 5 PM central standard time, if there is a question that the website can't answer for you.
The International Janitorial Cleaning Services Association has awarded CleanFreak with "The Best Janitorial Supply Website" in the industry for the 2nd year in a row. The IJCSA is the leading support forum for janitorial, housekeeping, and general business contractors in the cleaning industry. The general consensus among many of the IJCSA members was that CleanFreak offered the easiest website to navigate, had the most information available, and the best price on all equipment and supplies.
For additional information on janitorial equipment, supplies, and knowledge, please visit http://www.cleanfreak.com. For more information on the janitorial supply website awards, please visit http://www.ijcsa.com.
About CleanFreak:
CleanFreak is an online leader in the janitorial industry. If you have a question or need, CleanFreak.com is there to help.
Contact:
Customer Service
CleanFreak
1-888-722-5508
http://www.cleanfreak.com
###