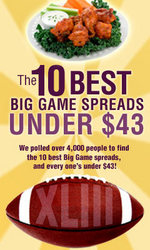 Livonia, MI (PRWEB) January 30, 2009
Savings Web site redplum.com has named 10 low-cost Big Game party menus as the best.
In a nod to tighter budgets (and the 43rd annual Big Game), redplum.com challenged over 4,000 U.S.-based consumers to create their best party menu under $43.
Ten entries were chosen as finalists and published on the site--including recipes, coupons, decor and invite ideas and more! Three winners will be crowned the day after the Big Game, based on their popularity.
Redplum.com, a savings and lifestyle site, puts deals at your fingertips. Consumers can check redplum.com every day for new coupons, deals, articles and more--on everything from groceries to games, fashion to dining, baby gear to beauty finds, entertainment to home, travel to electronics.
Now it's up to readers to choose a Big Game menu winner. Visitors have until Feb. 2 to "vote with their clicks" for their favorite menu, and share it with family and friends. The top three entries will win $50, and bragging rights as the world's best budget-friendly party fare.
A quick look at the finalists:
• Diane's Homemade Big Sandwich Bash

Beth's Puppy Bowl Party (With Dogs…and Dogs)
• Mary's Indoor Milwaukee Tailgate (With Grilled Brats)
• Chanda's Mexican Fiesta (With Make-Your-Own Taco Bar)
• Pete's Classic Spread (With Ultimate Mac & Cheese)
• Steff's Party Like an NFL Player Blowout
• John's Guys Who Can't Cook Party (With Cheesy Bread and Screamin' Weenies)
• Denise's Steel City Hoedown (With Eazee Chili, Corn Bread and Sweet Tea)
• Mark's Big Game Bingo Party (With Potato Skins and Mozarella Sticks)
• Marchelle & Michael's Super Slim Bowl (With Luau Fruit Bowl)
The article is found at: http://www.redplum.com/pages/ViewArticle.aspx?articleId=2415
For Facebook, Twittering & blogging use: http://tinyurl.com/87md33
###