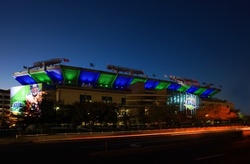 Wellington, FL (PRWEB) January 30, 2009
Florida based LED Source have provided the over 70 state-of-the-art Philips ColorReach LED fixtures that are now lighting the top of the stadium in brilliant color. With only two fixtures required to flood each 40 by 80 foot bay, the NFL's lighting designer, C. Dall Brown chose the ColorReach because quite literally, NO other LED fixture currently available would even come close to achieving that.
The ColorReach units are capable of projecting over 500 feet using only 22,000 watts total electricity. Mounted on a concrete cross beam from within the stadium, the fixtures project light onto the backside of the stadium's upper 30 rows, making the Raymond James Stadium visible from the air and from multiple viewpoints across the city of Tampa. This feat would normally require well over 100,000 watts of power and still wouldn't offer the color and brilliance of the ColorReach package. By using LED lighting, the NFL is achieving their goal of making the event as "green" as possible.
For sporting venues throughout the nation, or really anything that needs brilliant light and especially color, the ColorReach offers a truly unique package of Color, Power and Energy Efficiency. Putting out more than 5200 Lumens, the 290 watt LED ColorReach equals incandescent or discharge lamp sources that would require 4 times the power consumption - 1,600 watts each - and gels to produce the colored lighting. Instead, the stadium will be illuminated in a smart and sustainable way. Although this installation is temporary, these ColorReach LED lights would operate silently, efficiently, and without problem for up to 20 years!
Visit our website over the next few days - we will be adding more pictures from the installation, along with details about the overall project.
To find out how to get a lighting facelift for your building... call and speak to one of our lighting specialists at 866-900-4533.
LED Source is a major supplier of LED products from Philips/Color Kinetics, Acclaim, Renaissance, Anolis, Chauvet, Cree, Elation, Enlux & LEDFolio.
# # #