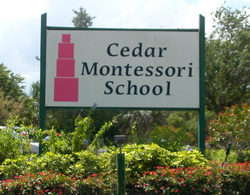 Naples, Florida (Vocus) January 30, 2009
Founded in 1984, Cedar Montessori School was founded 25 years ago in Naples, Florida. Roy and Marsha Marshall started the school with a single classroom for a handful of children in a small store front location in East Naples. Over the years, Cedar grew to a beautiful 1.8 acre campus in North Naples, offering a Montessori program for children ages 18 months through 12 years.
After almost 25 years of hard work and dedication, the founders relocated to Connecticut. The current Head of School, Anissa Arloro, was trained through The Association Montessori Internationale, by Renilde Montessori (the youngest living grand-daughter of Dr Maria Montessori) in Toronto, Canada in 1993. Mrs. Arloro operated a small school in the Boston area, as well as co-founded the New England AMI Alumni Association, which worked to spread public awareness of Montessori and offered continuing education for Montessori and other interested teachers. She also served as a board member for the AMI Montessori Training Center of New England, for its first year. Mrs. Arloro hopes to further Montessori awareness in southwest Florida, and see the growth of Cedar Montessori School flourish, with the help of her husband Hugo Arloro, and the school's Director, Kelly Thorpe, who has been with Cedar for 24 years.
The Montessori Method was founded by Italian physician, Maria Montessori over 100 years ago. The method is based on Montessori's discoveries of the developmental traits and characteristics of children from birth through the young adulthood. There is a specially designed environment, materials, and role of the teacher, to meet these traits and needs of the child. Dr. Montessori felt that "social peace and harmony can have only one foundation: man himself". The task of education is to see to it that we prepare man to change for the better. That man make the world a better place by working for the greater good, and striving for his fullest potential, intellectually, spiritually, and emotionally. Education starts at birth, and education is for life. There are thousands of Montessori schools worldwide.
Cedar Montessori School is currently accepting applications for the 2009-2010 school year. The school offers tours on Thursday mornings and encourages parents to come and observe in a classroom. The school will be celebrating its 25 year anniversary with a special event on Saturday Evening, March 7, 2009, at Bentley Village in Naples. For more information on the event or school programs, please contact the school or visit the website, http://www.cedarmontessori.com, (239)597-7190.
CMS is a 501c3 not for profit corporation.
Contact:
Anissa Arloro
info (at) cedarmontessori (dot) org
(239)597-7190
# # #