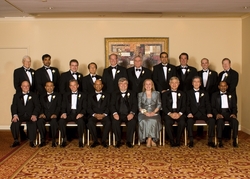 We are proud to acknowledge the achievements of our newly inducted Fellow Members of ASM International
(Vocus) January 30, 2009
ASM International, the materials information society, established the honor of Fellow of the Society to recognize members for their distinguished contributions to materials science and engineering.
"Because this award is bestowed by our colleagues, being able to write 'FASM' after your name is one of the highest honors that a materials professional can receive," said ASM President Roger J. Fabian, FASM.
Reflecting the technical and geographic diversity of the global materials community, ASM Fellows also serve as advisors to the volunteer leadership of the society. "We are proud to acknowledge the achievements of our newly inducted Fellow Members of ASM International," Fabian said.
Dr. Tae M. Ahn
Senior Materials Engineer
US Nuclear Regulatory Commission
Washington, DC
For serving the Nuclear Regulatory Commission (NRC) and developing models for high-level waste management that are being applied by workers in the US and elsewhere.
Dr. Mufit Akinc
Professor
Iowa State University
Ames, Iowa
For contributions to the science and technology of ceramic and alloy powders, and for leadership in materials education.
Dr. David M. Bowden
Technical Fellow
The Boeing Company
St. Louis, Missouri
For significant and sustained contributions to the development of new materials and processes for aerospace systems to improve performance and affordability.
Prof. Nikhilesh Chawla
Professor, School of Materials
Arizona State University
Tempe, Arizona
For significant contribution and analytical modeling of fatigue behavior of materials and innovative characterization of single and multiphase microstructures.
Dr. Sunniva R. Collins
Technology Director
Swagelok
Highland Heights, Ohio
For leadership and innovative contribution to the technological advances in stainless steels used in fluid systems applications.
Mr. Ralph C. Daehn
President
RC Daehn P.C.
Wayne, Illinois
For lifelong commitment in mentoring young engineers and students to design/innovation and outstanding contributions to aerosol can innovation and manufacturing technology.
Dr. David L. Ellis
Materials Research Engineer
NASA Glenn Research Center
Cleveland, Ohio
For development of new high temperature, high conductivity copper-based alloys and composites for turbine and rocket engine applications.
Dr. Robert W. Hendricks
Professor
Virginia Polytechnic Institute & State University
Blacksburg, Virginia
For outstanding contributions to the characterization of materials using x-ray and neutron scattering techniques.
Dr. Paul E. Krajewski
Laboratory Group Manager
GM Research and Development Center
Warren, Michigan
For outstanding contributions to the forming technologies, and innovative manufacturing of aluminum and magnesium sheets materials for automotive applications.
Dr. David L. McDowell
Professor
Georgia Institute of Technology
Atlanta, Georgia
For advancing the state of knowledge in microstructure property relationships of structural materials.
Dr. D. Scott MacKenzie
Technical Specialist
Houghton International Inc.
Valley Forge, Pennsylvania
For original contributions including seminal work with respect to
non-ferrous heat treat and microstructure research and development.
Mr. Somuri V. Prasad
Principal Member of Technical Staff
Sandia National Laboratories
Albuquerque, New Mexico
For recognition of outstanding contributions to the field of tribology, tribological coatings and metal matrix composites.
Dr. Seeram Ramakrishna
Dean of Engineering
National University
Singapore
For pioneering research on polymer composites, biocomposites and nanofibers.
Dr. Kumar Sridharan
Distinguished Research Professor
University of Wisconsin
Madison, Wisconsin
For outstanding contributions to the field of plasma-based surface engineering and synthesis of materials and materials research.
Prof. Sudipta Seal
Associate Professor
University of Central Florida
Orlando, Florida
For pioneering the development of multicomponent surface engineered oxides for a multitude of industrial applications.
Dr. John M. Tartaglia
Engineering Manager
Stork Climax Research Services
Wixom, Michigan
For contributions in alloy development and testing of metallic and semiconductor materials and extensive research, failure analysis and publication on fatigue, mechanical testing and materials performance.
Dr. Dan J. Thoma
Technical Staff Member
Los Alamos National Laboratory
Los Alamos, New Mexico
For outstanding contributions to the design and development of alloys in support of national security programs.
Mr. Steven M. Tipton
Professor
The University of Tulsa
Tulsa, Oklahoma
For sustained and innovative contributions to the development of fatigue and plasticity properties of coiled tubing materials and development of professionals in the materials field.
Dr. Yoshiki Tsunekawa
Professor
Toyota Technical Institute
Nagoya, Japan
For outstanding contributions to the development of thermal spray through his innovative research and leadership in Japan and the international scene.
ASM International is Everything Material, the Ohio-based society serving the materials science and engineering community. With 36,000 members worldwide. ASM provides authoritative information and knowledge on materials and processes from the structural to the nanoscale. Visit http://www.asminternational.org for details.
###