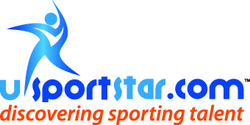 (PRWEB) February 20, 2009 –-
Bundesliga, Puma, and Fulham FC, the latest organizations to join the USportstar network, are actively participating in the global Internet platform in search of fresh sporting talent to recruit. UsportStar.com, the pioneering new Internet site that provides talented hopefuls of all ages the chance to showcase their sporting abilities with the possibility of being "discovered," is quickly gaining the attention of major teams, brands, and professional sporting organizations around the world.
By combining the mass appeal of Youtube with the worldwide sporting industry, USportstar is best positioned to give skillful sportsmen and women a chance to break into the sports industry. With scouts from such organizations as Nike, Adidas, Barcelona, Madrid, LTA, ATP, NCAA, NHL, NFL, MLB, and MLS in negotiations with USportstar, users have the eyes and ears of sports' elite crowd.
Launched in October 2008, USportstar has become an effective and valuable tool for skilled sporting hopefuls to exhibit their talent with the solitary purpose of being seen by major sporting industry groups. With an arsenal of undiscovered sportsmen and women such as Adam Ljajic – as seen on USportstar – who recently signed a nine-million-pound deal with footballing giant Manchester United, USportstar is an ideal tool for scouts and agents.
USportstar is a powerful instrument of exposure, and will soon add a section of the site specifically for agents, academies, and training centers who act as player representatives. The innovative USportstar feature will allow representatives to upload video libraries of talented individuals, thereby increasing the online visibility and exposure of the players they represent.
About USportstar.com:
UsportStar.com is a unique new Internet site that gives talented hopefuls of every age from around the globe the chance to showcase their sporting ability on an international stage. It also acts as a comprehensive and valuable resource for scouts, sporting brands in search of fresh sporting talent.
In order to ensure the integrity of the online community, all professional organizations, talent scouts and sporting brands are vetted, all videos are checked and verified, and parental approval is required in order to protect young people.
For more information on UsportStar, or to view the company's video, please visit http://www.UsportStar.com.
For further information:
Mr Pargat Mangat
Dreamscape Media Ltd
8 The Courtyard
Buntsford Drive
Bromsgrove
Worcestershire
B60 3DJ
Tel: 01527 889279
Email: media(at)dsmstar.com
###