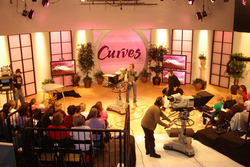 The new control room was booked the very first week by Fresh Air Media, a production company from California
Irving, TX (PRWEB) February 18, 2009
CRM Studios, one of the largest film and video production/post production companies in the southwest, now offers satellite and Internet broadcast service direct from The Studios at Las Colinas. The new onsite control room marks the first time that news feeds, training videos, Webcasts, and corporate messages can be broadcast from inside the facility without the need and expense of an outside, mobile uplink.
In addition to broadcast capabilities, CRM's control room provides multiple-camera switching from any one of the three studios. And while CRM maintains its own soundstage 24/7, the control room is available as an added service to any stage at Las Colinas. With the company's adjacent edit suites, graphics studios, and on-staff producers, corporate or broadcast clients can enjoy complete, turnkey services while producers can choose just the services they need.
"The new control room was booked the very first week by Fresh Air Media, a production company from California," said Brannon Preston, account executive/producer for CRM Studios. "Our producer services handled everything, including equipment rentals, craft services, and audience seating for 100. In fact, Fresh Air Media received total support, from set design, cameras and lighting, to audio engineering and crew. Working together, we delivered a successful live-audience, multi-camera production for their Texas-based client, Curves International."
About CRM Studios:
CRM Studios, a top-tier production/post-production company, produces projects for entertainment, corporate, government, and non-profit organizations. Clients include Lockheed Martin, Dillards, RadioShack, City of Dallas, GameStop, Tabasco, Alcon Laboratories, Fox News, Pfizer, Tribune Media Services and many more. More information is available at http://www.crmstudios.tv.
###