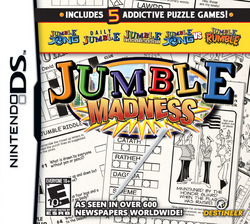 The Nintendo DS Jumble Game combines the classic Jumble game that people love with drag and drop and jot Nintendo DS functionality to make it a unique game play experience
Kansas City, MO and Minneapolis, MN (PRWEB) February 4, 2009
Digital media publisher UCLICK has teamed up with game publisher Destineer to release "Jumble Madness" for the Nintendo DS. This first-ever Jumble game for the Nintendo DS features classic Jumble puzzles with cartoon clues, Jumble Crosswords and a unique adventure game. Unlock treasures and advance the plot by playing Jumble Jong.
Distributed by Tribune Media Services in the US and worldwide for over 60 years, Jumble is one of the most popular word games in the US in print and online, providing daily entertainment to millions of Jumble enthusiasts with brain-teasing anagrams. "Jumble Madness" includes the same game play elements of the classic Jumble series including the use of Jumble cartoon clues and familiar design. Jumble Madness packs in thousands of hours of engaging game play in single player and multiplayer via Nintendo DS Wireless Communications!
Some of the key features include:

Single Player: Whether it is Classic Jumble or Jumble Crosswords, users play at their own pace in relaxed mode or test their skills playing against the clock.
Jumble Madness Game: Users embark on a virtual journey around the globe to retrieve items left behind by the central character, a hapless adventurer. Unlock treasures and advance the plot by playing "Jumble Jong," an all-new game type in which words are formed from a stack of Jumble tiles. Go for longer words for big scores, or unscramble the Jumbled bonus words for major points! Learn about locations while enjoying local culture and trivia. Interact with a central character and a cast of supporting characters. Each of the 15 locations includes a short story, a mission and 3 Jumble puzzles.
Multiplayer Mode: Play Jumble with your friends. Head-to-head game play over local wireless. "Jumble Rumble" and "Jumble Jong VS" can be played with up to 3 people.
Superior Stylus Play: Drag and drop feature gives the user intuitive game control over the letters which can be dragged and moved to the designated squares on the screen. Handwriting recognition system recognizes handwriting, making user input an easy process
"The Nintendo DS Jumble Game combines the classic Jumble game that people love with drag and drop and jot Nintendo DS functionality to make it a unique game play experience," said Uclick CEO, Douglas Edwards. "It is ideal for people who love challenging word games and are looking for hours of entertainment or quick bursts of Jumble play."
Uclick teamed up with Destineer, an established videogame publisher with an extensive catalog of cutting-edge videogames for both consoles and PC.
"Jumble Madness" is available at the MSRP of $19.99 at leading game distributors worldwide.
To learn more about "Jumble Madness" visit
http://click.linksynergy.com/fs-bin/click?id=bszyneNWrdI&offerid=121938.126098&type=2&subid=0
About Uclick

UCLICK® is the leading digital entertainment provider of innovative games for PC, handheld devices, mobile and online syndication. Uclick is a also a leading creator and distributor crosswords, word and number puzzles, humor, comic strips, manga, graphic novels, editorial cartoons, and other content for desktop, web and mobile phones. Partners featuring Uclick content include the leading consumer portals Yahoo!, MSNBC.com, New York Times, washingtonpost.com, CNN, USA Today, and AOL. Uclick features include the top brand franchises Garfield, Doonesbury, Calvin and Hobbes, Paul Frank, Teenage Mutant Ninja Turtles, TOKYOPOP, USA Today, Pat Sajak, Wyland, and many more. Uclick creative content and services are available through the GoComics.com website, U.S. mobile phone operators, the iTunes App Store, and other distributors worldwide. UCLICK, LLC is a division of Andrews McMeel Universal, the leading newspaper syndicate and publisher of humor books and calendars in North America.
For more information on Uclick, visit http://www.UclickGames.com.
About Destineer
Destineer develops and publishes commercial videogames for personal computers and videogame consoles, and creates PC-based virtual training systems for military, intelligence and first-responder organizations. Destineer is a privately held corporation headquartered in Minneapolis, MN, with development studios in Minneapolis, Raleigh, NC, and Austin, TX, and publishes games under the Destineer, MacSoft, Bold Games, and Atomic Games brands.
More information is available at Destineer's website: http://www.destineerstudios.com
###