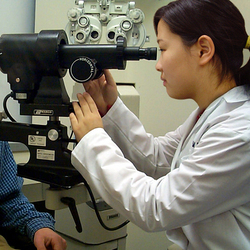 If employees want to remain competitive in the job market, they need to move toward industries with opportunities such as ophthalmic assisting. This will require new training and continuing education, but the potential for long-term payoff is extraordinary
St. Paul, MN (Vocus) February 5, 2009
The Joint Commission on Allied Health Personnel in Ophthalmology® http://www.jcahpo.org (JCAHPO®) announces that employment of ophthalmic assistants and technicians remains one of the leading industries for job growth. The organization cites data from the U.S. Department of Labor that indicates employment of medical assistants and technicians in fields such as ophthalmology ranks third on the list of the 30 Fastest-Growing Occupations in the U.S.
A 36 percent increase in employment opportunities until 2016 is also expected, resulting in over 150,000 new medical assistant jobs in the United States. With national unemployment rates still on the rise amid an unstable economy, industries such as ophthalmic assisting provide steady, secure employment opportunities for job-seekers.
One explanation for the positive growth in the field of ophthalmology is a sharp rise in patient numbers as baby boomers enter retirement age.
"In this period of economic uncertainty, it is critical that ophthalmic organizations take aggressive strides to ensure that the existing ophthalmic personnel shortage gains exposure," notes William F. Astle, MD, FRCS(C), Dipl. ABO, President of the Joint Commission on Allied Health Personnel in Ophthalmology (JCAHPO®). "We see these statistics as an opportunity to address several problems currently facing the eye care industry."
Population analysts estimate the numbers of adults over the age of 65 to reach upwards of 70 million by the year 2030, and by then, senior citizens are expected to outnumber teenagers by more than 2 to 1. A range of factors associated with this age group will converge to paint an unprecedented picture: increasing life-expectancy, patient demand, and the stress of a growing demographic. While the numbers and projections are startling, the resulting upshot is that jobs for ophthalmic personnel will remain in high demand for the next few decades.
"The ability to adapt to current employment conditions is essential," says Astle. "If employees want to remain competitive in the job market, they need to move toward industries with opportunities such as ophthalmic assisting. This will require new training and continuing education, but the potential for long-term payoff is extraordinary," he adds.
One of the advantages of ophthalmic assisting is that the profession is open to individuals with a high school diploma or equivalent. This makes it stand apart from other health care professions that often require years of training, education, and/or an undergraduate or graduate degree. Once certified through JCAHPO via an independent study course or accredited academic program, certificants will find employment opportunities in abundance. Depending on their JCAHPO certification level, an ophthalmic assistant or technician can expect to earn between $36,000 and $46,000 annually.
"Eye care has a number of opportunities for advancement," notes Astle. "The allied health profession is a field primed for an influx of eager, enthusiastic, and trained personnel to help meet the increasing patient population demand. JCAHPO is working to provide job-seekers with a dependable and alternative outlet for long-term career success," says Astle.
About JCAHPO:
JCAHPO is a non-profit organization that providing certification and training for eye care excellence since 1969. More than 17,000 ophthalmic assistants, technicians, and technologists across the globe are JCAHPO-certified. JCAHPO certifies at three core levels:

Certified Ophthalmic Assistant (COA®)
Certified Ophthalmic Technician (COT®)
Certified Ophthalmic Medical Technologist (COMT®)
JCAHPO also certifies in four specialty areas:

Registered Ophthalmologic Ultrasound Biometrist (ROUB®)
Ophthalmic Surgical Assisting
Certified Diagnostic Ophthalmic Sonographer (CDOS)
Corporate Certified Ophthalmic Assistant (CCOA®)
About Continuing Education (CE):
JCAHPO's continuing education (CE) programs are designed to increase the knowledge and skills of ophthalmic medical personnel as they work toward certification or recertification. CE credits are awarded for participation in a wide range of programs and activities including lectures and workshops, independent study, and approved courses.
Related Web sites:
http://www.myeyecareer.org - Career information site.
http://www.myjcahpoce.org - Site offering online courses and continuing education (CE) credit.
References:
1. Bureau of Labor Statistics (BLS). US Department of Labor. The 30 Fastest-Growing Occupations, 2006-2016. Retrieved May 1, 2008, from http://www.bls.gov/news.release/ecopro.t06.htm.
2. Bureau of Labor Statistics (BLS). US Department of Labor. The Employment Situation Summary: November 2008. Retrieved December 23, 2008, from http://www.bls.gov/news.release/empsit.nr0.htm
3. 2007 National Report: Salary & Benefits For Ophthalmic Medical Personnel. (2007). St. Paul, MN :Association of Technical Personnel in Ophthalmology (ATPO).
###