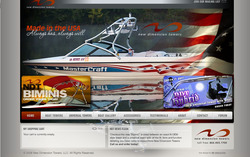 We specialize in exact-fit wakeboard towers that enhance the look of your boat
Maryville, TN (PRWEB) February 3, 2009
New Dimension Towers announced their most recent innovation, the NDT Hybrid, a fully adjustable tower with a universal fit to most all-sport runabouts, bow riders, and ski boats from 72" to 108" beam width, for a custom look. This model fits Mastercraft boats, Bayliner boats, Moomba boats, and a number of other leading boat brands. It combines the cost-effectiveness and convenience of a universal wakeboard tower with the styling of an exact-fit tower.
Whether the watercraft is a Mastercraft boat, a Cobalt boat, or any other leading brand, New Dimension Towers has been providing a variety of aluminum and stainless steel wakeboard towers to fit the design of the boat and the intention of the boat tower for more than ten years. The company carries exact-fit boat towers, hybrid universal wakeboard towers, wakeboard tower Biminis, and accessories. Their newest design makes customization affordable.
For a customized Nautique wakeboard tower or Malibu wakeboard tower, New Dimension Towers carries boat towers specifically crafted for the specific model of boat. They offer these exact-fit towers for most top boat names.
"We specialize in exact-fit wakeboard towers that enhance the look of your boat," says Wayne Hartford, President and founder of New Dimension Towers. "Our innovation is that we have designed a tower with rails that follow the contour of the windshield. We aim to preserve the beauty and style of the boat."
Because they specialize in custom orders, New Dimension Towers is able to create a positive customer experience. Many customer reviews give high marks for service and quality.
"We are totally committed to serving our customers by building some of the finest towers found anywhere in the world," states Hartford.
Additional product offerings include a Bimini boat top with Bimini top hardware, and other accessories for their selection of universal and custom wakeboard towers. All NDT Biminis are made with Sunbrella fabrics, strong, lightweight, and weather-resistant material available in a range of colors.
For more information on the NDT Hybrid or the exact-fit, custom wakeboard towers, browse the gallery at New Dimension Towers.
###