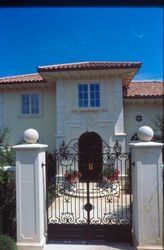 Liberty Hill, TX (PRWEB) February 2, 2009
Land owner of the original Armadillo Quarry leases land to re-open as Continental Cream Quarries, LLC a Texas Limestone Cream Quarry creating another source for the widely used "Cordova" Cream Limestone.
Acutely aware of the current economic affairs, Rob Teel, President of Continental Cream Quarries, LLC, has over 20 years experience producing architectural cut limestone elements for Cream Limestone projects through his cut stone mill, Continental Cut Stone, Inc. (http://www.continentalcutstone.com). He believes this is the right time to step up and provide clients with another option. His 2001 acquisition and operation of Continental Quarries, Inc. quarrying Lueders Limestone, brings expertise and understanding full circle.
The rock and quarry industries of Travis and Williamson counties grew from the Early Anglo Period of 1830-1844. The Balcones Escarpment:Land Use and Cultural Change along the Balcones Escarpment 1718-1986, E. Charles Palmer pg. 154. The Balcones Escarpment, a fault zone that runs from the Del Rio area to near Waco has lent itself to providing limestone for most of the areas premier building projects and homes for almost a century. Numerous limestone quarries now operate in the Central Texas area as there are a variety of uses for limestone.
This quarry is unique in this area due to its history and the quality of the raw material. Limestone must be consistent and available in depth to produce large blocks required for elements such as columns, balustrade and surrounds.
Continental Cream Quarries will now be added to the short list of quarries producing Cream and Shell limestone. Other top grade limestone quarries produce Lueders, West Texas Cream and Hadrian among others giving the building industry additional resources for their next Cut Limestone projects.
About Continental Cream Quarries, LLC:
Continental Cream Quarries, LLC provides Texas Cream and Shell Limestone blocks; facilitates slabbing with Continental Cut Stone Inc. and has landscape and sculptural blocks available. Contact Rob Teel, 254-793-2329, with your inquiries.
###