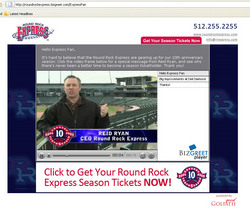 With Good Goliath's application, our fans can see our message through personalized web video, and then click to buy their season tickets online. We've already experienced good results in the opening days of the campaign. BizGreet is a home run
Round Rock, TX (PRWEB) February 2, 2009
The Round Rock Express have important news to share with all of their fans in this, their 10th anniversary season. For starters, they've invested over $3.5 million in stadium improvements, including the Intel Club, a separate season ticketholder entrance, and architectural sun shading for fans on the first base side.
To get the message out to fans - and to spark interest in purchasing season tickets - the Round Rock Express have hired Good Goliath, an Austin-based marketing firm with a proprietary new web-based video application designed to increase sales with personalized video presentations.
Good Goliath's web application, called BizGreet, leverages web-based video to make personalized sales presentations online. The service provides clients with a highly efficient means of generating leads and sparking online sales, and gives them a way to be more personalized in their communications at the same time.
"With Good Goliath's application, our fans can see our message through personalized web video, and then click to buy their season tickets online. We've already experienced good results in the opening days of the campaign. BizGreet is a home run," said Reid Ryan, CEO of the Round Rock Express.
"BizGreet campaigns are highly cost-effective, and provide definitive returns on investment in comparison with less sophisticated communications methods, like direct mail or broadcast media," said Mat Harris, Good Goliath CEO.
A generalized version of the Round Rock Express BizGreet video page can be viewed here. Fans of the Round Rock Express have received personalized video pages in the campaign.
In addition to the Round Rock Express, Good Goliath will also launch campaigns for 3M Projector Systems and other companies in the Austin area in February.
About Good Goliath, LLC:
Good Goliath is an Austin, Texas based marketing firm that specializes in developing innovative sales and marketing strategies for its clients. The firm also employs sophisticated development resources to create innovative, web-based sales and marketing applications. BizGreet is the first of these applications. For more information, visit http://www.goodgoliath.com.
###