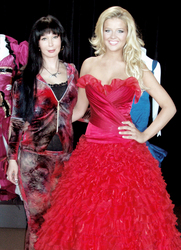 Las Vegas, NV (PRWEB) February 2, 2009
Lana Fuchs, CEO and designer for Las Vegas-based Lana Fuchs Couture, a leading contemporary womenswear label, teams up with Georgina Vaughan, the representative for the state of Nevada in MISS USA® 2009 Pageant, to celebrate timeless beauty.
Taking place on April 19th 2009 at Planet Hollywood Resort and Casino in Las Vegas, NV, MISS USA® Pageant is promising to be an event not to be missed for lovers of beauty all over the world.
Georgina Vaughan, reigning Miss Nevada USA 2009, has picked Lana Fuchs Couture as the official designer label to dress her for the Pageant and create exclusive one-of-a-kind pieces for all her MISS USA® 2009 appearances and events. Fuchs is proud to introduce a range of luxurious, elegant and sophisticated pieces to emphasize Vaughan's beauty and style.
Fuchs has a long history in fashion having created custom couture and ready-to-wear collections since 1995. This highly anticipated collaboration comes as an opportunity to fuse the beauty of fashion with the face of Miss Nevada USA Georgina Vaughan.
With public recognition of her talent and eye for distinct individuality, Fuchs has been featured on WEtv, Lifetime Television Networks and Fashion Television on her debut runway show in October 2008 during Mercedes-Benz Fashion Week in Los Angeles. Her work has been featured in a growing list of publications including California Apparel News, In Touch Weekly, Zink, Las Vegas Weekly, Vegas, 944, Marie Claire, Harper's Bazaar and Vogue.
About MISS USA®
The MISS UNIVERSE®, MISS USA® and MISS TEEN USA® Pageants are a Donald J. Trump and NBC Universal joint venture. Utilizing its nationwide grass roots infrastructure, the Miss Universe Organization is committed to increasing awareness of breast and ovarian cancers. By forging relationships with organizations committed to research and education, such as Susan G. Komen for the Cure and Gilda's Club, Miss USA is armed to educate women today. For further information, please log on to http://www.missusa.com.
Press Contact: The Atwell Group 858.272.8491 /Justin McVay 702.604.6838
About Lana Fuchs Couture:
Based in Las Vegas, Lana Fuchs is the renowned designer of the contemporary womenswear label, Lana Fuchs Couture. Fuchs' signature style transcends the world of reality into fantasy. From exquisite dresses to extravagant red carpet gowns, Fuchs continues to design for the discerning woman with a need to dress for every occasion. For more information, please visit http://www.lanafuchs.com .
Press Contact: Anna Grigoryeva 702.367.4747
###