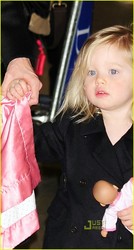 I am delighted that Shiloh finds comfort when holding a SwaddleDesigns Baby Lovie
Seattle, WA (PRWEB) February 2, 2009
SwaddleDesigns®, the ultimate destination for stylish baby blankets and fashionable layette essentials, has a very young, very loyal and famous fan - Shiloh Jolie Pitt, 2-year-old daughter of Angelina Jolie and Brad Pitt. One of Hollywood's favorite children, Shiloh is frequently photographed with a SwaddleDesigns Baby Lovie® security blankie in her hand.
"I am delighted that Shiloh finds comfort when holding a SwaddleDesigns Baby Lovie," says Lynette Damir, Registered Nurse and Founder of SwaddleDesigns. "Pediatricians recommend a security object for small children 6-months and older, and our Baby Lovie is a perfect size for little hands. SwaddleDesigns Baby Lovie has textures that little ones love and find so soothing, and brings comfort to thousands of young children including one very famous little girl."
Shiloh has been consistently photographed with a SwaddleDesigns Baby Lovie in her hand since before her first birthday, and just recently on a trip to Tokyo with her parents. In the Narita airport, Shiloh was photographed holding her Bright Pink Polka Dot Baby Lovie and Angelina's hand. But Shiloh is not just Pretty with Pink, she has been photographed a multitude of times carrying her Sage, Sterling, Bright Pink or Pastel Pink SwaddleDesigns Baby Lovie in her hand.
In a recent interview, Angelina shared that each of her children have a favorite travel item and stated that Shiloh's must-have travel item is her little square silky blankies. (see extract from Changeling Press Tour interview at Celebrity Baby Blog at http://www.celebrity-babies.com/2008/10/angelina-joli-7.html).
SwaddleDesigns proudly manufactures the Baby Lovie and their collection of stylish baby products in the USA.
SwaddleDesigns offers a wonderful assortment of everyday essentials that help new parents comfort and care for their newborn with a focus on style and unmatched quality. SwaddleDesigns line includes an assortment of optimistic and comforting designer colors and prints to allow moms to mix-n-match and personalize their layette. Recommended by doctors, nurses, and newborn care experts, SwaddleDesigns is loved by moms, dads, and babies.
Meet Lynette Damir, Founder of SwaddleDesigns:
Lynette was inspired to create stylish and functional products to help parents care for their new babies. As a registered nurse and mother of two, she understood the importance of swaddling newborns. Lynette visited families with new babies and observed they struggled with swaddling for two reasons: 1) the blanket they were using was too small and 2) they could not remember how to make a good secure swaddle. Lynette used her nursing background and her design education from the Art Institute of Seattle to develop the Ultimate Receiving Blanket with swaddling instructions sewn to the blanket (patent pending). Lynette designs SwaddleDesigns' product line, SwaddleDesigns' exclusive prints and she selects every component based on its color, texture, durability and quality. Today, Lynette offers new parents not only an award winning Swaddling Blanket but also fashion forward eco-friendly baby accessories, such as Baby Lovie® ,Baby Burpies™, Bibs and Stroller Blankets. SwaddleDesigns products and collections are fun to mix and match with over 90 prints and colors.
About SwaddleDesigns, LLC:
SwaddleDesigns was founded in September 2002 by Lynette Damir, RN and is based in Seattle, Washington. SwaddleDesigns first customer was a major hospital that purchased 4000 blankets. SwaddleDesigns is committed to providing functional and stylish products to help new parents comfort and care for their baby. SwaddleDesigns products are fun to mix and match with over 90 prints and colors. Celebrity moms, such as Marcia Cross, Angelina Jolie and Gwyneth Paltrow, and hundreds of thousands of new parents around the USA and the world have used and enjoyed SwaddleDesigns' stylish and functional products. SwaddleDesigns products are manufactured in Seattle, Washington.
SwaddleDesigns products are available for purchase at Nordstrom, Dillard's, The Right Start, Destination Maternity, Von Maur, and hundreds of wonderful retailers and boutiques in the United States as well as many International locations. For online shoppers, all SwaddleDesigns' collections are available at http://www.eSwaddle.com.
For retail locations and product information, please visit http://www.SwaddleDesigns.com.
###