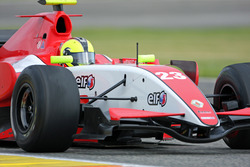 Tallinn, Estonia (PRWEB) February 3, 2009 -
– Sten Pentus will join the Fortec Motorsport team for the starting series of the World Series by Renault: Formula Renault 3.5 series. Fortec announced the addition of the Estonian pilot after two successful days of Formula Renault 3.5 testing at Valencia in November last year.
"Sten came to us at the end of last year and made great progress in testing. He worked will with our engineering staff and quickly settled into the team to learn the car and circuit. We're looking forward to a successful year, and from what we saw in testing, I'm sure Sten will achieve strong results," commented Fortec Motorsport team Principal, Richard Dutton.
"Joining Formula Renault 3.5 series is a big step and huge honour for me," said Sten Pentus. "One of the main goals for me is to work hard, develop and conquer myself at first. Another important key word is good cooperation with the team."
Pentus' first official World Series by Renault: Formula Renault 3.5 series test of the 2009 season will take place at Jerez, Spain on 10 and 11 Marchl; the competing season starts on 18-19 March in Barcelona, Spain.
In the past, Pentus has been driving under the auspice of KC Racing - a subsidiary of KC Grupp. KC Grupp is an internationally active investment company belonging to a dynamic businessman and racing enthusiast Margus Reinsalu.
Margus Reinsalu is the founder and chairman of the board of an Estonian based investment company, KC Grupp. Combined with his ownership of KC Grupp and partial ownership of Property Logic, Reinsalu has undeniably sealed his position of diverse influence. Margus' interests include travelling, aviation, motorsport, golfing and yachting. He is also a member of the exclusive Ferrari Owners Club of Andalucía, Ascari Race Resort and country club La Zagaleta.
For more information on Estonian pilot Sten Pentus, the Fortec Motorsport team and the World Series by Renault: Formula Renault 3.5 series, please visit http://www.fortecmotorsport.com or http://www.corpore.ee
Media contact:
Dainis Hirv
Corpore
+3725021995
###