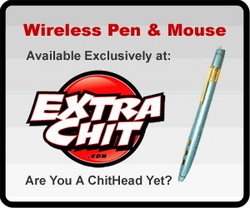 We are Americans and We Take Chit.
Tyler, TX (Vocus) February 2, 2009
Advanced technology is growing at an expedited rate each year making it hard for the average person to keep up to date on all the new computer peripherals, monitors, CPU's, GPS, Security Systems, music devices and everything in-between much less being able to afford them. ExtraChit is offering each new member, we lovingly call "ChitHeadz", a portal to find up to date equipment to be purchased at reduced prices by applying the Chit they have acquired with each product previously purchased.
Hi-Tech products are the wave of the future with the all new GPS Wrist Band Tracking System allowing children to be located at a moment's notice, by parents, grandparents, and the confused baby sitters. With the tracking features like GPS module and Tri-Band GPRS module for worldwide use with the automatic positioning report, Real time tracking by unit ID, location, speed, time, emergency help and phone support for 2 way voice communication, ExtraChit will be setting the standard for acquiring these devices at prices that are truly affordable.
The contemporary Hi-Tech product consumers are going to love the Lit Urban Underglow modern LED lighting system which provides an intoxicating ambiance for your space. LIT is designed specifically to create an ultra lounge feeling by applying to sofas, sectionals, benches, futons, beds, chaise, chairs, sofa tables etc. LIT can also be applied to flat screen TVs, floor/tower speakers to render a beautiful back-light in your entertainment and home theater rooms.
One of Americans top five concerns is business and home security. ExtraChit offers a wide variety of security and surveillance systems to protect you and your possessions, like the Logitech Pro Six Security system which allows remote viewing via cell phone and through any web based computer on Earth. The Logitech Home Plug System is another professional security product which requires absolutely no wiring and operates through the existing wiring in your home or business.
ExtraChit anticipates a huge membership growth over the next few months as the savings every single ChitHead thus far has been able to take advantage of, surely will constitute a massive word of mouth campaign that will make more American citizens happy to take Chit to the next level by stating in one clear voice "We are Americans and We Take Chit."
For information: http://www.ExtraChit.com
Phone: 903.705.0310
Stephen Soape
###