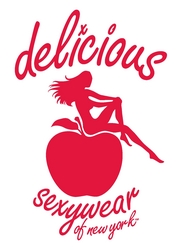 We began writing orders for the costume collection at the Expo and will also introduce a collection of intimate apparel under the delicious Sexywear brand name by the end of 2009
New York, NY (PRWEB) February 3, 2009
Houman Salem, former CEO of Forplay, is set to launch his new line called delicious Sexywear™.
The new line was introduced at the 2009 "Halloween & Party Expo" in Houston on January 24th through the 27th. Salem and his new team met with some of the world's largest retail store chains as well as with hundreds of independent retailers and specialty stores. "We began writing orders for the costume collection at the Expo and will also introduce a collection of intimate apparel under the delicious Sexywear brand name by the end of 2009," commented Salem.
delicious Sexywear is a start-up company that is a stand-alone division of Rubie's Costume Company, Inc. (the world's largest Halloween and Masquerade products manufacturer). "We are a true start-up company with a highly entrepreneurial spirit and with the backing of Rubie's Costume Company, which provides us with tremendous resources and access to top national accounts," said Salem. "Because we are a separate division of Rubie's, we have total creative and management control over our brand coupled with Rubie's deep expertise in Costume industry, that's a winning combination."
According to Salem, delicious Sexywear is a highly differentiated brand. All costumes are inspired by New York fashion trends utilizing "quality fabrics and superior construction." He explained where some of the quality comes from: "I have been working with top designers in New York from FIT to Parsons, our production samples were manufactured in Manhattan by the same people who produce samples for designer Betsey Johnson, and that's pretty high-end," said Salem.
Salem joined Rubie's in August 2009, after nearly two years of courting, and given the opportunity to develop a new company under the Rubie's umbrella to effectively capitalize on the growing demand for "sexy" costumes and intimate apparel for the 20-something consumer market. "This is a highly active buying group," said Salem. "They have a different set of needs and demands when it comes to retail shopping; they are ultimately looking for satisfaction in their overall purchasing decisions and that means better quality at affordable prices."
Among the many attributes that makes delicious Sexywear unique is its highly differentiated product packaging. The company sells all its "sexy" costumes in a multi-functional round package which creates a compelling visual presentation when displayed inside the retail environment. The company strongly believes that its packaging will facilitate sell-through and help create an "n-demand" brand. "The delicious Sexywear packaging is the most innovative I've seen in my 20+ years in this industry," commented Todd Kenig, owner of New York-based powerhouse RICKY"S NYC retail stores.
delicious Sexywear will give a sneak preview of it intimates collection at the International Lingerie Show in Las Vegas, April 20th through the 22nd.
About Delicious Sexywear:
Delicious Sexywear of New York™ is a division of Rubie's Costume Company and a designer and manufacturer of sexy costumes and intimate apparel. The company specializes in New York inspired fashion and apparel targeting modern and trendy women who radiate self-confidence, individualism, and style. The company's products are sold at Nation Retail Chains, Specialty Stores, and Boutique Retail Shops throughout the United States as well as in Canada, Europe, Latin America, Australia, and Asia. For more information about Delicious Sexywear of New York™, please visit http://www.deliciouSexywear.com
About Rubie's Costume Company:
Rubie's Costume Company, Inc. is the largest Halloween and Masquerade products manufacturer and distributor in the world. The company owns worldwide exclusive licenses from some of Hollywood's leading entertainment companies (including Warner Bros., DC Comics, Fox Films NBC/Universal, DreamWorks, and Paramount Pictures). Rubie's specializes in the creation, design, manufacture and sale of costumes, make-up, wigs, masks, hats, prosthetics, and accessory items. Rubie's products are sold wherever Halloween and Masquerade Costumes are retailed including National Retailer Chains, Toy Stores, Costume Shops, Variety Stores, Party Goods stores and other specialty retailers located throughout the United States as well as in Canada, Europe, Latin America, Australia, and Asia. For more information about Rubie's Costume Company, please visit http://www.rubies.com
For more information about this press release, please contact:
Jaclyn White
516-281-2800 Main
516-281-2801 Fax
###