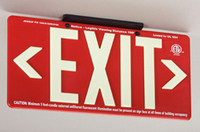 The installation convenience and zero maintenance cost of these exit signs make them a huge improvement over traditional models
Cleveland, OH (PRWEB) February 2, 2009
The new Eco Exit signs utilize the latest photo luminescent technology to absorb and store ambient light. In the event of an emergency with a blackout or smoky conditions, this stored energy is immediately visible, creating a clearly recognizable, photo luminescent egress indicator. The innovative emergency exit signs reduce the risk of panic or injury during evacuation, offering peace of mind while eliminating energy costs.
Unlike electrical exit signs, these easy to install wireless exit signs offer the only non-radioactive, zero energy and zero maintenance solution on the market. Green design and energy savings all rolled into one.
"The installation convenience and zero maintenance cost of these exit signs make them a huge improvement over traditional models," states Dan Ruminski.
There are many benefits with using the Eco Exit luminous exit signs. Architects benefit because of Eco Exit signs' LEED points qualification, the reduction of cooling and emergency generator loads, aesthetically pleasing designs and the multiple product solutions for every application. Contractors benefit from the lower labor and material costs, as neither electrical nor battery backups are required. The standard bracket options provide for easy mounting of these glow-in-the-dark exit signs. There are also many building owner benefits as well, including zero energy consumption costs, zero maintenance, and no disposal costs.
Glo Brite Eco Exit Signs are designed for either new construction or retrofits in any application including office buildings, retail stores, warehouses and distribution centers, high rise apartments, manufacturing facilities, living centers and hospitals. These eco-friendly exit signs are available in steel and plastic models that may be surface, flag or ceiling mounted.
By switching to Eco Exit signs, a building with 100 signs will save over $3,500 per year in energy costs alone and reduce air pollution by almost a half a million pounds of CO2 compared to the incandescent signs over the life of the product. Eco Exit signs are also less expensive to install and maintain as they eliminate the need for wiring, maintenance or battery backup, further decreasing overhead costs. The luminous Eco Exit signs completely eliminate energy consumption and provide immediate return on investment.
About Martinson-Nicholls
Martinson-Nicholls, has established itself as a leader in custom anti-slip tap and mats, heated floor mats, and safety products for more than 25 years.
Martinson-Nicholls provides the customer with the exact size matting needed--small, large, standard, nonstandard, special shapes and logos. Custom installations are also a specialty of the company.
Anti-slip safety tapes and treads are available in various sizes and textures from hand cut or die cut pieces to full rolls and special shapes. For more information, please visit http://www.floormat.com.
###