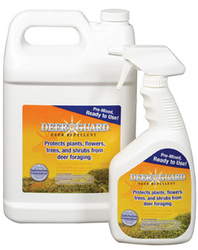 One application on my trees has taken me through the growing season, with just a little touch-up on new growth. In the fall, I'll spray them again and that will protect my investment through the winter
Cleveland, OH (PRWEB) February 9, 2009
Deer Guard is the newest addition to the pest repellent line from Martinson-Nicholls, Inc. It protects your plants and shrubs from foraging deer year round by using the bitterest tasting substance known to man, and a detection agent that trains deer to avoid Deer Guard protected plants.
Deer Guard may be applied to non-bearing plants such as flowers, ornamental plantings, trees and shrubs when the temperatures range from 40 to 90 degrees Fahrenheit, and literally bonds to the plant's surface using a latex formula. One application lasts up to four months, keeping your plants protected even when temperatures drop to sub-freezing. Odor-based repellents do not work in freezing temperatures.
Deer Guard does not affect the health of the plant. If a deer attempts to take a bite of a treated plant, the repulsive taste stops him.
Unlike scent-based deer repellents (which typically contain rotten eggs or animal blood), Deer Guard has no foul odor. This allows it to be applied near patios without driving people away. It is also superior to scent-based products because Deer Guard performs 365 days a year, even in below-freezing temperatures. Scented repellents are not as effective below 32 degrees F., because the cold stifles the odor. But Deer Guard maintains the same bitter taste under all conditions.
One application of Deer Guard will last up to four months, making it one of the longest-lasting repellents ever developed. "One application on my trees has taken me through the growing season, with just a little touch-up on new growth. In the fall, I'll spray them again and that will protect my investment through the winter" quotes Babe Winkelman, outdoor television host and noted naturalist.
Deer Guard is available in a one-quart spray bottle for smaller applications, and a one and two and a half gallon bottles for larger applications.
About Martinson-Nicholls
Martinson-Nicholls, has established itself as a leader in custom floor matting, heated floor mats, pest repellents, and safety solutions over the last 25 years.
Martinson-Nicholls provides the customer with the exact size needed-small, large, standard, nonstandard, special shapes and logos. Custom installations are also a specialty of the company.
Anti-slip safety tapes and treads are available in various sizes and textures from hand cut or die cut pieces to full rolls and special shapes. For more information, please visit http://www.floormat.com.
###