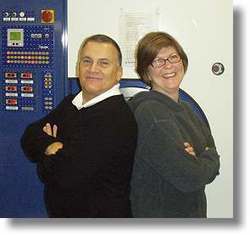 We're even on the internet
Stamford, CT (PRWEB) February 2, 2009
Frank Policastro doesn't claim to be a 21st century man. "I'm as old school as it gets," he laughs. "My son is still trying to teach me how to email properly." But as owner of Crescent Cleaners, a family-owned and operated dry cleaner celebrating its 24th year in Fairfield County, Connecticut, he has made a commitment to leading the curve in service, innovation and technology.
"When I opened my doors in 1984, there were 4 other cleaners in the Stamford, CT area -- now there are ten times that many," explains Policastro. "You have to make yourself stand out to the customer with quality service and competitive pricing. We manage to do that by staying on top of the trends in the industry." In 2003, Crescent moved its plant two doors down, completely modernizing from a traditional mom-and-pop cleaners to a state-of-the-art production facility while offering larger coverage for their free pick-up and delivery services.
Moreover, the move to greater technology has resulted in a move to "greener" technology. "We use as our dry cleaning solvent DF-2000, a synthetic hydrocarbon that cleans great, is virtually odorless -- but most importantly, it minimizes health and safety risks and is better for the environment," says Policastro.
Crescent has also made a move towards 'paperless' garment tagging, using a sophisticated and computerized system of categorizing clothes. "Instead of the old way of tagging your shirts or dresses with a paper tag and a pin, we impress a barcode, which allows for simple scanning and repeat usage. It's fantastic."
"We're even on the internet," says Policastro, "and we're looking to all of the possibilities that can help inform our clients who are both online and off of newer and better services, in our constant effort to provide top-notch quality." Again, Policastro laughs. "But I let others handle the Internet part."
For more information, visit http://www.crescentdrycleaners.com.
# # #