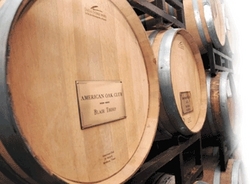 These three wines can be enjoyed by those who can't or don't want sugar.
Windsor, Calif. (PRWEB) February 3, 2009
Love wine but the sugar in it doesn't love you? VinoShipper.com announces that it now sells Chateau Thomas Winery's three "Slender" wines, the world's only naturally-sweetened, sugar-free wines. Chateau Thomas's Slender® White, Slender® Blush, and Slender® Red are sweetened by Zerose® , a natural non-caloric sweetener. In the words of the winery, "These three wines can be enjoyed by those who can't or don't want sugar."
Chateau Thomas Winery was founded by Dr. Charles R. Thomas, who was a practicing Obstetrician-Gynecologist in Indianapolis when he began making wine for a hobby. He traveled to Napa for several years to study under famous winemakers until he opened his own winery in Indiana. During its history, Chateau Thomas wines have won over 400 medals and awards, including many Double-Gold Medals, and a Best-in-the-Nation award. Two wines were voted as 100 best wines east of the Rockies in 1999, and a Corning Cup for the best red wine at the International Eastern.
In applying his medical background to wine-making, Dr. Thomas discovered he could create fine wines using Zerose®, a sugar produced by yeast fermentation, that he reports has no calories, a 0 glycemic index, no aftertaste, and does not affect insulin levels. In fact, Dr. Thomas writes, "even though it has the identical flavor spectrum as sugar, it has no side effects because it cannot be metabolized by the human body." The three Slender wines are:

Slender® White is produced from 100% Muscat grapes, giving this wine a pale straw color, floral scents of peach, apricot and citrus. Serve this wine as an aperitif with fish, fowl, cheese, fried chicken, and a variety of fresh desserts.
Slender® Blush is made from a blend of Chenin Blanc and Rubired grapes. Food pairings include fish, fowl, processed meats, German-style foods, and a variety of cheeses.
Slender® Red is crafted from Rubired grapes and is dark in color. Aromas include cherry, classic berry, plum, and spice. The mild sweetness rounds out the lasting clean finish.
In addition to producing the Slender line of sugar free wines, Chateau Thomas has also released cabernet franc, cabernet sauvignon, chardonnay, merlot, pinot grigio, sauvignon blanc, seyval, traminette, viognier, ice wine, syrah, petite syrah, port, barbera, semillon, sherry, zinfandel, tempranillo, rose, gewurztraminer, and riesling wines. The winery was presented the prestigious Double Gold at the 2008 Tasters Guild International Wine Judging for its 2006 Zinfandel and 2003 Cabernet Franc, as well as multiple Gold, Silver, and Bronz awards for many of its other offerings.
About VinoShipper.com
The goal of VinoShipper.com is to be an efficient global retailer for wine. It does so by expanding the ability of the wineries it represents to reach out to those who appreciate good wine and who value having a broad selection. By connecting these consumers directly to wines they may not otherwise know, and by maximizing the winery's' profits, VinoShipper.com benefits the consumer and the winery. VinoShipper.com is located in the heart of California's wine country.
###