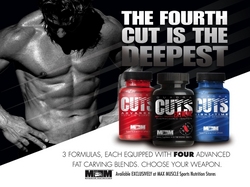 There are literally hundreds of weight loss supplements on the market. Many of them contain ingredients listed in the Supplement Facts panel that have very technical sounding names and many make untruthful, misleading and even ridiculous claims about weight loss
Anaheim, CA (PRWEB) February 2, 2009
Quadra Cuts, one of the most anticipated releases ever from Max Muscle Sports Nutrition, is now the Official Weight Loss Product of the $25,000 MaxFormation Life Challenge as its three different scientifically developed fat loss formulas cater to specific body and nutritional needs: Thyroid Support, Night Time, and Extreme.
"It became obvious that there were too many diet products that were 'one size fits all' when clearly each and every person who needs to lose weight has different obstacles to overcome," said Max Muscle co-founder and President Sean Greene. "From focusing on an often overlooked part of the weight management plan, thyroid function, to lifestyle and sleep patterns, the three blends of Quadra Cuts have literally changed the industry."
As the Official Weight Loss product of Max Muscle Sports Nutrition incredibly popular MaxFormation Life Challenge - rewarding $25,000 cash to the individual who can best change their physique in 2009 utilizing Max Muscle products available at more than 160 Max Muscle Sports Nutrition stores across the nation and online - Quadra Cuts formulas literally flew off the shelves and contestants instantly felt the difference a dedicated formula of Weight Loss product, suited to their lifestyle, made in their lives.
"We originally thought most people would be seeking this product out in the first couple weeks of January since its release was so anticipated and losing weight is our nation's #1 New Year's Resolution," said Greene. "What we've since discovered is that the products are working so well, and being so accepted, that they're telling their friends and associates and that pattern is repeating over and over again."
"There are literally hundreds of weight loss supplements on the market. Many of them contain ingredients listed in the Supplement Facts panel that have very technical sounding names and many make untruthful, misleading and even ridiculous claims about weight loss," said Dr. Phillip W. Harvey, Chief Scientific Officer for Max Muscle Sports Nutrition. "The sad truth is that many have no scientific evidence that they are safe for humans to take and, furthermore, have no shred of scientific evidence that they do anything to promote weight loss."
Quadra Cuts, fully documented and tested, has that proof and the American people demand transparency in all claims. Max Muscle delivers that in store, online, and through each of their Certified Sports Nutrition Coaches™ who work at every store.
Quadra Cuts Extreme is scientifically designed for adults to support maximum calorie burning (thermogenic), accelerated weight loss specifically fat (fat oxidation), increase energy and elevate the body's metabolism (thermogenesis). The main component of this formula is the powerful and innovative Quadra Cuts Proprietary Blend providing multiple sources of natural caffeine-related alkaloids. The formula presented in a time-released tablet for a continuous delivery of caffeine over an extended period of time.
Quadra Cuts Night Time Metabolic Activator by Max Muscle Sports Nutrition is designed for adults to help sustain maximum calorie burning while you sleep. Unlike preparations that leave you feeling over stimulated and restless in the evening, Quadra Cuts Night Time provides the fat burning factors throughout the night and assists you in sleeping by combining gentle, but effective sleep aids promoting a great night's sleep.
Quadra Cuts Thyroid Support is designed for adults for optimal thyroid gland function to help achieve maximum calorie burning throughout the day. Quadra Cuts Thyroid Support is a non-stimulating thermogenic formula that provides targeted vitamins, minerals and herbal extracts to nourish and support healthy thyroid cell metabolism as well as triiodothyronine (T3) and thyroxine (T4) levels. This comprehensive formula specifically focuses on an often overlooked part of the weight management plan, thyroid function.
Max Muscle Sports Nutrition continues to expand nationwide with more than 160 stores and was featured for the second year in a row in the Fortune 500 "Best Businesses for 2009" by leading the industry in nutritional and supplemental advancement in fitness and weight loss education, innovation, product support, and consumer appreciation. This appreciation stems from a company that continually develops its products and services, but regularly provides its customers with training and advice in the stores and online such as with this valuable copy of 'The Top Ten Rules To Get Lead Fast' which is given free to each individual who joins the Max Muscle Sports Nutrition Email Club.
A record of more than forty-six consecutive months of same store sales growth has fueled the growth of new Max Muscle Sports Nutrition locations around the country as fit professionals opt out of stocks and real estate and opt into a Max Muscle Sports Nutrition store of their own since forecasts for the fitness and weight loss industries continue to climb even in the midst of a troubled economy.
For more information about Max Muscle Sports Nutrition's Quadra Cuts formulas and the MaxFormation "Bring Yourself To Life" $25,000 Reward, visit: Max Muscle Sports Nutrition.
Max Muscle Corporate Offices
1641 S Sinclair
Anaheim, CA 92806
USA
714-456-0700
###