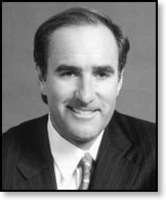 Whether by sudden tragedy, poor performance, merger, takeover or simple retirement, every CEO will leave his or her position. The corporate boards that take on a systematic, predictable and transparent process in choosing the next leaders of the organization build stronger cultures, clarify the company's strategy and deliver value to all stakeholders, including employees
Scottsdale, AZ (PRWEB) February 2, 2009
Dennis Carey has launched the Web Site, CEOSuccession.com, based on his experience as an executive recruiter who has specialized in director and chief executive searches over the past 20 years.
"In working with leading companies, we have developed a window on how boards can get it right when choosing a new chief executive," said Mr. Carey. "This is the critical fiduciary responsibility of the board, ensuring the steady flow of effective leadership in corporate America."
The website offers access to the insight that Mr. Carey has developed over the course of his career. "Whether by sudden tragedy, poor performance, merger, takeover or simple retirement, every CEO will leave his or her position. The corporate boards that take on a systematic, predictable and transparent process in choosing the next leaders of the organization build stronger cultures, clarify the company's strategy and deliver value to all stakeholders, including employees," Mr. Carey said.
Dennis Carey specializes in the recruitment of CEOs and corporate directors. In recent years, Dennis has conducted searches for the current CEOs of 3M, Tyco International, Unisys (previous CEO, not current), MCI, and American Standard, among others. Dennis also has conducted board director searches for dozens of companies, including American Express, CBS, Tyco International (entire new board).
Dennis C. Carey holds a Ph.D. in finance and administration from the University of Maryland and was a post-doctoral Fellow at Harvard University in 1982-1983. Dennis also has held visiting Fellowships at Princeton Theological Seminary and the ECC. He has authored numerous articles on corporate governance, director recruitment, board compensation (Directors & Boards magazine), and business strategy related to spin-offs (McKinsey Quarterly). Dennis Carey also has published three books: CEO Succession and The Human Side of M&A, both published by Oxford University Press in 2000, and How to Run a Company, published by Crown Business in 2003.
For more information, go to http://www.ceosuccession.com.
###