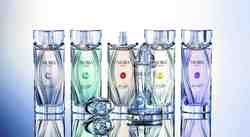 Miami, FL (PRWEB) February 2, 2009
Emeshel is redefining sensuality this Valentines Day, following the launch of its Emeshel Beauty collection of heavenly fragrances for men and women - the perfect gift for any loved one on February 14th.
Emeshel Beauty is an unprecedented new line of luxury fragrances featuring a collection of five women's Eau de Toilettes under the title of Nubia, named after the ancient state of northeast Arabia once occupied by the Egyptian kings. Also part of the newly launched Emeshel Beauty line is the company's first cologne for men, Rajul, named after the ancient Arabic word for "Man." Each perfume is identified by its own color and unique scent and has been provocatively designed, taking the art of perfumery to a whole new dimension of artful sensuality and symbolism. Emeshel Beauty is considered to be the first line of fragrances of its kind in the world, with its unique design and symbolism paying homage to our Egyptian ancestors whom first introduced fragrances during ancient burial rituals for their kings in 3500 B.C.
To celebrate Valentines Day, Emeshel has launched the ultimate online survey to unleash the animal in every lover, allowing for all highly-sensual romantics to discover if those secret desires, inside and outside the bedroom, have lead to the ultimate Nubia Woman or Rajul Man! For those would-be Nubia women, Emeshel invites everyone to visit http://www.IAmNubia.com to establish the ultimate seductive woman. For the manly stallion, visit http://www.DoYouMeasureUp.net for all serious world-class lovers.
The survey score is based on a combination of physical strengths, attitude, sexual experience and ones ability to attract the opposite sex. Alternatively, all sexual sirens can log-on to http://www.Emeshel.com to divulge the ultimate Valentines Day fantasy in 250 words or less for a chance to win the grand prize as part of the Emeshel national sweepstakes package - a weekend of luxury and romance in a two-night stay at the Gansevoort South Hotel in the heart of sexy South Beach.
Bring the scent of sweet seduction this Valentines Day, with the newly launched Emeshel Beauty line, featuring a choice of five luxury Nubia 3.4oz fragrances for women, or the single Rajul fragrance for men, also 3.4oz in volume. Nubia Yellow brings together the scents of refreshing lemon juice, fresh citrus and limes with a fragrance combining oil of bergamot with sweet orange from Brazil. Nubia Red evokes the delicate aroma of a sensual Odalisque, with hints of tangerine, vanilla, blackcurrant and musk. Nubia Green portrays the bouquet of a newly mowed lawn, green leaves and an intensely crisp lemon combined with refreshing dew. Nubia Rose implies freshly brewed ice tea, oil of bergamot, grapefruit and orange - combining the aromatic fragrances of a modern-day metropolis with a metallic elegance. Nubia Violet brings the fresh, waggish notes of the fruit-bearing harvest, complete with ripe grapes, sun-kissed blackberries, mulberries and hints of green apple, peach and sea breeze.
The contrasting scent of Rajul for men tells the story of an aroma representing the power of the Grand Seigneur of Arabia. After reaching the coast from the desert at dawn and leaving the vast sand dunes of the cool Arabian night, one is touched by the fragrance of the wet wind and the endless water. This fragrance is powerful and energetic, with a delicate, sophisticated and mysteriously sexy allure. The bottle designed for Rajul is purposely shaped in the form of a man's most intimate sexual organ, honoring the power of masculine virility.
The Emeshel Beauty line of women's fragrances is individually priced at $99.00 with the Men's Eau de Toilette also priced at $99.00. The complete beauty line is now available for purchase at http://www.Emeshel.com. Log on for a complete list of additional retail locations. Email info (at) emeshel.com or call (305) 571-9177 for additional information.
About Emeshel:
Emeshel was founded in 2004 in Budapest, Hungary, as a company created to capture the essence of fine art through the mediums of crystal and glass. The founder, Sandy Marc Kertesz, named his company Emeshel, after discovering a remarkable designer that had a unique passion and exquisite eye for the art of molten crystal and glass. A combination of letters from her first and last name was used to form the brand as it is known today. Emeshel had a captivating story to tell - one of love, emotion and tender memories reaching back to her teenage years. Emeshel set forth to express her life experiences in love through her work and the company's original Emeshel Home Collection was the first to market with a unique range of glass and crystal collectibles for the home, based on her own family's collection in Budapest. The Emeshel Art Collection became her dearest, telling a story of male and female affection and connection -- made from a combination of Emeshel's signature lead crystal and Murano glass with an enrichment of 24 karat gold, sterling silver and other precious metals. Since the inception of its boutique store in Budapest, the company has expanded on its product line to include handcrafted sculptures made from Emeshel's signature lead crystal and Murano glass, as well as its own exclusive line of women's jewelry and accessories.
Following the U.S. launch of Emeshel in Miami and the inauguration of its Emeshel Beauty line of fragrances, the company plans on opening a series of boutique stores in New York and Los Angeles in 2009. The complete Emeshel collection is currently available in Miami, Zurich, Budapest, Munich and Dubai. The newly opened Emeshel gallery and showroom, its first in the U.S., is located at 3930 NE 2nd Avenue, Suite 204, Miami, FL 33137. Additional information on the entire Emeshel Beauty, Emeshel Home, Emeshel Art and Emeshel Love Collections can be found at http://www.Emeshel.com. Email info (at) emeshel.com or call (305) 571-9177 for additional information.
Media Contact:
Elliott Stares
ESPR, Inc.
305.490.1985
ESPRInc (at) gmail.com
###