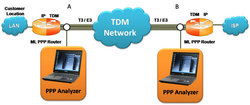 GL's T3 (DS3) / E3 analyzer supports protocol decoding and analysis of ATM, Frame Relay, MLPPP, and HDLC
Gaithersburg, MD (Vocus) February 3, 2009
GL Communications Inc., announced today the availability of a set of Protocol Analyzers/ Emulators for T3 E3 Transmission systems. In a statement released to the press, Mr. Jagdish Vadalia, Senior Manager of Product Development for GL said, "GL's T3 (DS3) / E3 analyzer supports protocol decoding and analysis of ATM, Frame Relay, MLPPP, and HDLC". He added, "All the protocol analyzers are based on similar architecture and support sophisticated filtering, statistics and real-time capture options".
Mr. Vadalia further added, "The newly added portfolio of select Protocol Analyzers would address the need of the telecom community who are on the lookout of cost effective Protocol Analyzers for T3 E3 Transmission Systems".
A brief description of T3 E3 Protocol Analyzer and Emulator is given below:
PPP Protocol Analyzer for T3/E3
The PPP Analyzer captures a host of PPP protocols exchanged between the two nodes over T3 E3 links and provides useful analysis, which includes distribution of protocols, protocol fields, frame lengths and frame status. User can obtain detailed analysis of the protocol and can gather various statistics and measurements
Some of the important features:
•Supports a host of protocols including PPP, IPCP, BCP, BPDU, PAP, CHAP, HTTP, SNMP, STUN, FTP, DNS, and DHCP
•Ability to test and perform numerous measurements across WAN- LAN or LAN-LAN connection
•Ability to test and analyze HDLC based PPP protocol in synchronous environment
•Search and filtering capabilities for both real-time as well as offline analysis.
For comprehensive information on the product, please refer to:
T3 E3 PPP Protocol Analyzer web page.
ATM Protocol Analyzer for T3
GL's T3 ATM Analyzer is used to analyze and decode different ATM protocols like ATM, AAL2 Protocols (CPS-SDU, SSSAR-SDU, and SSCS), AAL5 (CPCS), UNI and others across U plane and C plane of UNI and NNI interface.
Some of the important features:
•Displays Summary, detail, hex-dump, statistics, and call trace views
•Summary View displays Dev #, Frame #, VPI/VCI, PT (Payload Type), HEC, OSF, AAL Type, Frame Type, CID, LI, CPI, UUI, SSSAR CID and SSCS message type etc
•Detailed view displays decodes of user-selected frames
•Hex dump view displays raw frame data as hexadecimal and ASCII octet dump
For comprehensive information on the product, please refer to T3 ATM Protocol Analyzer web page.
Frame Relay Protocol Analyzer for T3 E3
Frame Relay is another commonly used data link protocol based on packet switching technology. It is mainly incorporated into corporate data networks due to its cost-effective data transmission, and flexible bandwidth.
Some of the important features:
•Supports decoding of encapsulated protocols, and long frames up to 16 Kbytes.
•Analyze Permanent Virtual Connection (PVC) and Switched Virtual Connection (SVC) frames
•Supports filtering and search features based on LAPF parameters and Q.933 layer parameters such as DLCIs, Message Type, FECN, BECN, DE, NLPID's TCP, IP, SMTP, POP3, and so on.
•Provides Summary View, Detail View, Hex dump, statistics, and call trace views.
For comprehensive information on the product, please refer to T3 E3 Frame Relay Protocol Analyzer web page.
HDLC Protocol Analyzer / Emulator for T3 E3
GL's T3/E3 HDLC protocol analyzer provides the capability to capture, and analyze HDLC data on a T3/E3 lines. There may be a single data channel per T3/E3 line. After setting the T3/E3 ports and FCS type and starting the decoding process, the main screen displays the captured HDLC frames. Flags are stripped, and all other data is presented, including FCS bytes.
Some of the important features:
•Displays Summary, detail, hex-dump, statistics, and call trace views
•Summary view displays device#, frame#, LAPD, LAPF specific information and IP information like source/destination IP address, TCP source port, TCP destination port etc
•Detailed view displays decodes of user-selected frames
•Statistics view displays statistics based on frame count, byte count, frames/sec, bytes/sec etc for the entire captured data
For comprehensive information on the product, please refer to T3 E3 HDLC Protocol Analyzer web page.
About GL Communications Inc.
Founded in 1986, GL Communications Inc. is a leading supplier of test, monitoring, and analysis equipment for TDM, Wireless, IP and VoIP networks. Unlike conventional test equipment, GL's test platforms provide visualization, capture, storage, and convenient features like portability, remotability, and scripting.
GL's TDM Analysis & Emulation line of products includes T1, E1, T3, E3, OC-3, STM-1, analog four-wire, and analog two-wire interface cards, external portable pods, and complete system solutions. Capabilities include voiceband traffic analysis and emulation across all traffic types (voice, digits, tones, fax, modem), all protocols (ISDN, SS7, GR-303, Frame Relay, HDLC, V5.X, ATM, GSM, GPRS, etc.), and with capacities up to thousands of channels.
GL's VoIP products generate / analyze thousands of calls simultaneously with traffic types such as voice files, digits, video, tones, noise, and fax using G.711, G.729, AMR, EVRC, GSM and a range of other codecs. Additional features include visual analysis, real-time listening, and recording. The product line also includes a Software Ethernet Testing capability that checks frame transport and throughput parameters of Ethernet and IP networks.
GL's Voice Quality Testing (VQT) product line complements all of GL's products. Using ITU-standard algorithms (PAMS, PSQM, and PESQ), GL's VQT provides a widely excepted solution across the telecom industry. Voice Quality Testing across multiple networks (T1/E1/T3/E3/OC-3, VoIP, Wireless, Landline, etc.) are all available.
GL's Wireless Products perform protocol analysis and voice quality assessment on GSM, CDMA and UMTS networks. Connections can be made to any wireless phone with automated call control, GPS mapping and real-time signal measurements.
GL's Echo Canceller testing solutions provide the broadest range of simulation and analysis, including compliance testing per G.168 and G.160 across TDM, IP, VoIP and Wireless networks. GL's wirelss VQT solutions help assessing impairments to voice quality such as poor mobile phone quality, voice compression and decompression algorithms, delay, loss and gain in speech levels, noise, acoustic and landline echo, and other distortions are easily assessed and accurately measured.
GL's Handheld data testers can test a wide variety of communications facilities and equipment including T1, fractional T1, E1, fractional E1, T3 and E3 modems, multiplexers, CSU/DSUs, T1 CSUs, DTUs, NTUs and TIUs and more. The testers provide convenience, economy, and portability for almost any interface, including RS232, RS422 / RS530, X.21, T1, E1, T3, E3, and many others.
GL's Network Surveillance and Monitoring products include Probes for TDM, IP, VoIP, ATM, and Wireless networks. An open standards based approach provides a scalable, feature rich, real-time access to network intelligence. Centralized or distributed access, efficient transport and database loading allow compatibility with 3rd party and standards based monitoring systems.
For more information about GL's complete line of products,
Contact:
Shelley Sharma
Phone: 301-670-4784 ext. 114
###