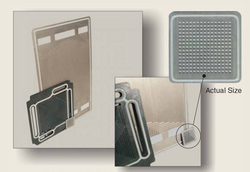 Hamburg , N.J. (PRWEB) February 4, 2009
Ames Corporation, a leading manufacturer of high-quality elastomeric coatings, moldings, and insert molded components, introduces its AMESSeal™ line of Form-In-Place Gasketing Systems for Proton Exchange Membrane (PEM), Direct Methanol (DMFC), and Phosphoric Acid (PAFC) Fuel Cells. Designed to improve Sealing Performance and durability while reducing costs, AMESSeal provides an adaptable solution to the Sealing Performance needs of Fuel Cell stack, Membrane Electrode Assembly (MEA), and Bipolar Plate manufacturers.
The AMESSeal Gasketing System provides programmable liquid delivery system functions by automatically dispensing and bonding a thin bead of low-durometer elastomers directly onto metal, graphite, or polymer substrates. Compared to traditional die-cut or molded gaskets, the AMESSeal Sealing Performance system creates a 50 percent decrease in possible sources of leakage. A customer's available selection of silicone or fluoroelastomer materials, depending on the temperature and chemical resistance characteristics required for their specific needs, makes the AMESSeal system applicable to a wide variety of Fuel Cell applications.
Ames also offers the AMESSeal Gasketing System in a multi-layer composite version, which combines the compliance and sealing of silicone, with the improved chemical and temperature resistance and durability of a fluoroelastomer, ensuring integrity of sealing over the entire gasket surface. Beads with a height tolerance of ±.05mm are applied in various sizes with height-to-width ratios ranging from 1:1.5 to 1:6. Additionally, adhesion levels can be tailored to satisfy specific sealing needs. Multiple beads can be applied side-by-side and custom size beads are also available.
Gaskets are applied in an infinite number of complex patterns, and the AMESSeal solution works without the high upfront tooling and mold costs associated with die-cut, molded, and mold-in-place Gasketing Systems. Based on software-driven technology, the system allows for low-cost prototyping and rapid scale-up to easily attainable production volumes.
The flexibility of the AMESSeal system permits the user to easily make changes to design specifications. Capable of accommodating an infinite number of MEA and Bipolar Plate sizes and configurations, the AMESSeal Gasketing System offers low compression forces, excellent adhesion, and the potential for easy removal of the gasket to accommodate recycling efforts.
About Ames
For nearly 60 years Ames has been a leading supplier to international, high-tech customers who require elastomeric coatings, moldings, insert molded components and other elastomer products that meet high-quality standards. As one of the very few companies to win the Malcolm Baldrige National Quality Award for business excellence, Ames is ISO 9000-2000 registered, practices Six Sigma and Lean Manufacturing, and is well known for its exceptional attention to process and product quality. Ames believes that innovation begins with research and taking a creative approach to the application of manufacturing technologies. The company's AMESSeal™ process is the latest result of this ongoing effort. For additional information about Ames or the solutions they offer, please visit http://www.amescorporation.com, or call (973) 209-3162.
###