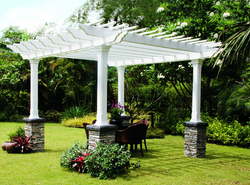 Our new website launched just in time as dealers and consumers are planning for spring 2009
Trumbull, Conn. (PRWEB) February 3, 2009
http://www.eyelevelliving.com is the online resource to find the latest, uniquely designed line of outdoor room products. "Our new website launched just in time as dealers and consumers are planning for spring 2009," says Brian Schroeder, Vice President of Marketing and Sales for Eye Level. "There is an opportunity for dealers across industries to grow their business profitably by offering consumers an affordable new product line. Our stocked U.S. warehouses are shipping product to dealer showrooms now for spring business."
The new website showcases Eye Level's upscale line of cast stone products including pergolas, arbors, columns, mailbox posts, hose reels and raised accent beds. Its carefully planned design makes it simple for dealers, consumers, and media professionals to access a wealth of product information. Interested dealers can obtain instructions on how to become an authorized dealer, and existing dealers have a resource to attain product details for consumer assistance. Consumers can easily browse Eye Level's online catalog and find a dealer in their area by using the Dealer Locator function. Media professionals can download product images for feature articles.
"We are very excited to kick off the year with a new website and have already generated tremendous interest since launching the site just days ago," said Diane DeLuca, Director of Marketing for Eye Level. "As well as aligning the site design with fresh new branding, we updated the content and functionality to improve service levels for dealers and consumers." The new website will bring Eye Level products and brand to the forefront of the Outdoor Living and Hardscape industry.
About Eye Level:
Eye Level Corporation manufactures and markets high quality, maintenance-free outdoor living products that include pergolas, arbors, cast stone columns, mailbox posts, hose reels and raised accent beds. We are a privately held company headquartered in Trumbull, Connecticut with international manufacturing, warehousing in the United States and marketing representatives throughout North America.
Since 2000, Eye Level has consistently expanded its product offerings to satisfy consumer demand for innovative and durable outdoor products. For more information on Eye Level, visit the company's website at http://www.eyelevelliving.com.
Contact:
Diane DeLuca, Director of Marketing
Eye Level Corporation
888-782-1760, ext. 152
###