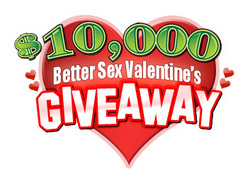 so we've planned our biggest event for February 2009.
Hillsborough, NC (Vocus) February 3, 2009
The Sinclair Institute announced sales of adult toys on its web site BetterSex.com reached record levels in December. "December sales say there is something to the idea people are willing to invest in their love life during a recession," explained Martin Smith a Director at the company. "Sex and Recession, an excellent article by Christopher Varmus on Forbes.com, points out sales of adult toys are increasing as "adult" entertainment becomes more mainstream," Mr. Smith noted.
"The cash-strapped masses may be spending less on restaurants and entertainment, but not necessarily on the quality of their sex lives-and manufacturers of sexual aids are broadening their lines to meet the demand."
Christopher Varmus, Forbes.com December 19th
Examples of what Forbes calls "the mainstreaming of adult" abound. Oprah Winfrey's extended conversation with Dr. Laura Berman about the Berman Center Adult Toy Line on January 9th produced an "Oprah Effect" increasing sales and traffic selling some Berman products out. Sales of Rabbit Vibrators spiked when Sex and the City's character Charlotte gave Rabbits a rave review on the television show. The Hitachi Wand vibrator was also featured with a wink and a nod about its secret sexual purpose. Hollywood joined the trend in 2008 with Ethan and Joel Coen's Burn After Reading featuring Liberator Shapes and other toys.
Hollywood seems increasingly willing to include adult toys and adult stars in mainstream productions. Director Kevin Smith's film Zack and Miri Make A Porno stars SuperBad's Seth Rogen and Definitely Maybe's Elizabeth Banks. Kevin Smith, best known for directing Clerks and Dogma, included adult star Katie Morgan and former adult star Traci Lords in Zack and Miri. "Zack and Miri is a funny, sweet film showing just how hard it is to create compelling adult features," Mr. Smith said, "Zack and Miri also mentions several of our best selling adult toys in intelligent and funny ways."
"I would not say our business segment is recession proof," Director Smith shared, "but it appears people realize improving their love life can be inexpensive and may pay long term benefits." The company will not leave Valentine Sales to chance. "Valentine is a bigger sales period for our company than the holidays," explained Mr. Smith, "so we've planned our biggest event for February 2009." The company will giveaway over $10,000 in products from their most popular brands every day in February. "We created our Better Sex $10,000 Valentine Giveaway by contacting partners such as Liberator Shapes, Sportsheets and Grrl Toys. We shared our plans to help people by giving their brands away in February," Mr. Smith said, "and every company we asked said SURE and sent thousands of dollars of products for our Valentine's Giveaway."
The Better Sex Valentine Giveaway will give several hundred dollars worth of toys from best selling brands to people every business day in February. There is no purchase necessary and the contest is void where prohibited. The contest may be entered in a number of ways including automatic entry for making a purchase, signing up for emails or following BetterSexWeb on Twitter. People may also find a contest entry form and complete contest details at BetterSex.com. "We were going to make our Grand Prize a $1,000 cruise, but we decided, given our tough economic times, it would be better to let the winner decide how to use our Grand Prize of $1,000 cash," explained Mr. Smith. Prizes will be awarded in a series of drawings starting on February 2nd and extending until Valentine's Day. "We won't be out of this recession by Valentine's Day, but there is no reason we can't help people have fun, get closer and find the love life they really want this Valentine's Day," Mr. Smith said. "Helping people find the exciting, fun, great love life we all deserve is our mission and we will stick to it recession or no," Mr. Smith concluded with a smile.
###