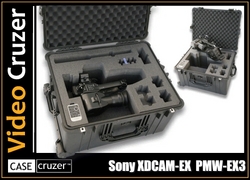 Montclair, CA (PRWEB) February 3, 2009
Capturing High Definition (HD) images is pointless if the camcorder used in remote locales is damaged en route to the broadcast studio. To resolve the issue, CaseCruzer has developed a durable carrying case for professionals who travel the globe. Now content gatherers need not worry about sensitive equipment - like Sony's PMW-EX3 digital compact camcorder.
The PMW-EX3 digital compact camcorder Pelican case by CaseCruzer bring high-density armor to state-of-the-art HD workflows. Knowing that cameras and accessories are locked down and secure, means broadcasters as well as independent videographers and filmmakers can keep their focus where it should be: recording important imagery and making art.
These Pelican cases can easily and swiftly steer through airports and other tricky locales. Professionals on the run take control with an extendable handle and exterior-mounted urethane wheels. This artful dodger is also outfitted with one front and two side folding handles.
The picture perfect camera case when empty weighs only 23 lbs, including its foam interior. Its dimensions are a compact yet rugged 24.81"L x 19.38"W x 13.88"H. It is, of course, engineered to accommodate the Sony PMW-EX3 camcorder. But its interior is also designed with a cut-out for cassette tapes. A snug compartment for accessories, such as a shotgun microphone, and cables is located in the case's lower depths. Egg-shell foam lines the lid for extra protection when the case is closed.
The CaseCruzer camcorder luggage can take the heat. And the dust, sand, and downpours that seasoned travelers know to expect. That's because Pelican builds reliable, durable character into each new case: dust and sand proof, watertight with buoyancy up to 150 lbs, tolerance of extreme temperatures, from -10 to 210 Fahrenheit. And this check-in only protective case meets ATA 300 standards as well as IP67 ratings.
The new Sony PMW-EX3 provides filmmakers, videographers and other professionals in the content community a low-cost studio where superior HD imaging quality is the norm.
But CaseCruzer anticipates the dangers image makers will encounter, then neutralizes them with premium design solutions. Air travel nightmares, such as bags and cases tumbling off conveyor belts, are a thing of the past. And a baggage handler who tosses sensitive gear onto a plane or truck is no reason for content gatherers to lose sleep. The durable luggage is also fitted with dual flanges that can be secured with padlocks. And like all Pelican products, the PMW-EX3 digital compact camcorder case travels with an unconditional lifetime warranty.
When stalking the wild and capturing HD images, remember Pelican is in the business of survival. But when you see the name CaseCruzer, think Pelican Plus. Survival is more than a business. It's an art.
The CaseCruzer network of companies provides the community with the most comprehensive packaging solutions available on reusable carrying cases for applications such as Communications, Photography, Computers, Electronics, Weapons, Medical, Transportation and other industrial shipping and carrying case uses. For more info about the new Pelican case, visit http://www.casecruzer.com; call 800-882-4730 in the U.S. or 909-613-1999 internationally; fax 909-465-5598; or write to CaseCruzer at 4665 State Street, Montclair, CA 91763.
Contact:
Tatiana Briceno
CaseCruizer
(909) 613-1999
(800) 882-4730
###