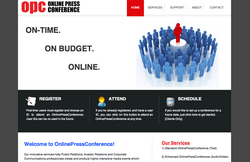 Stamford, CT (PRWEB) February 3, 2009
Today marks a new day for media interactivity on the World Wide Web, as OnlinePressConference LLC debuts its new online press conferencing system for news-maker speakers and journalists at http://www.OnlinePressConference.com
The genesis of OnlinePressConference came from a simple idea. By combining the time-honored practice of an operator-assisted teleconference call with the interactivity of a Web presentation, OnlinePressConference aims to help clients get their message out easily and eliminate many of the headaches of in-person press-conference production (travel, logistics, scheduling, budget and coordination) in the process. The new service, based on industry-standard Adobe Flash® streaming technology, is different from the multitudes of online meeting providers by focusing less on screen-sharing, remote PC control, and talking slideshows -- and focusing more on the interactive dialogue at the heart of a successful press conference.
"We are launching OnlinePressConference because there is a lack of attention being paid to the Public Relations and Investor Relations industries by the online-meeting providers," said Lisa Bannerot, Managing Director. "Furthermore, too many virtual meeting providers give you a blank online room, confusing cost structures, audience limitations and no clear structure to accomplish the most basic goal of a press conference - to communicate with your audience."
To start, the Company is introducing two service packages: "Standard" and "Enhanced". The Standard OnlinePressConference, is a two-way (moderated or unmoderated) text chat between a newsmaker speaker and up to 125 (or more) participants in the audience. The Enhanced OnlinePressConference contains all of the same features, with the addition of streaming audio and video, to accompany the interactive text dialogue. Both packages include registration and verification of attendees through an electronic registration system, production of a one-hour event and delivery of a participant list and transcript to the client after the event has concluded.
Initial pricing for a Standard conference is $1,500 and the Enhanced conference is $2,500, and the company is offering volume discount opportunities and special incentives for charter clients. Numerous enhancements are available for both packages, including additional users (up to 250 maximum concurrent users) for $250, additional time ($250/hour), a Moderator to host the event ($500/event), a five-item Virtual Press Room for background materials ($125) and more.
"Our goal with OnlinePressConference is to simplify the online-meeting model, provide a flat-rate option with a flexible service menu and, most importantly, bring a PR sensibility to these online meetings," Bannerot continued. "And, for those who need it, we'll be there every step of the way - such as helping moderate the events themselves - giving customers the full convenience of a conference call with the interactivity of the Web."
For more information, visit http://www.OnlinePressConference.com.
About OnlinePressConference, LLC
Founded in 2008, OnlinePressConference's goal is to assist Public Relations, Investor Relations and Corporate Communications professionals with the process of hosting, deploying and producing highly-interactive media events in a secure, online forum.
Headquartered in Stamford, CT, OnlinePressConference, LLC (http://www.OnlinePressConference.com) was created by a PR-services entrepreneur who previously co-founded a leading college media communications company.
###