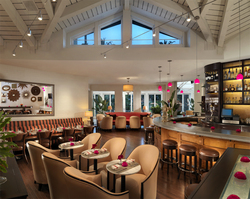 Santa Monica, CA (PRWEB) February 3, 2009
FIG, a seasonal bistro, opens today with Chef Ray Garcia at the helm. Named after Santa Monica's most famous landmark--the 123-year-old Moreton Bay Fig tree--the restaurant places a strong emphasis on sustainability and indigenous ingredients.
FIG's dishes use ingredients from local farmers and purveyors and are presented in traditional Bistro style. In fact, up to 90 percent of its produce is locally and organically grown. Specialties vary according to season, sampling only the freshest produce. Chef Ray lists ingredients at the bottom of his menu labeled as: "Just Arrived," "In Peak Season," and "Coming Soon."
Many of FIG's signatures include local ingredient-inspired twists on traditional Bistro fare, such as the curly endive salad, roasted tomato soup, and bouillabaisse. The curly endive salad features purple curly mustard greens from McGrath Family Farms as well as sylvetta arugula and French breakfast radish from Grant Brians at Heirloom Organics in Hollister. Potatoes from Weiser Family Farms in Tehachapi are used for the restaurant's lemon-scented fingerlings, frites, and brandade. Japanese tomatoes grown at Beylik Farms in Fillmore provide the base for the roasted tomato soup. Additionally, a variety of herbs featured in the dishes are taken directly from a FIG-designated garden.
In line with its focus on sustainability, FIG acquires all meat, poultry and fish from farms, ranches and fisheries embracing responsible practices, and all mussels, clams and oysters are aqua-farmed in Carlsbad, California. FIG also participates in an innovative program, La Quercia Acorn Edition, favored by such renowned chefs as Mario Batali, David Burke and Laurent Tourendel. In deriving meats for a variety of specialty items, Chef Ray is working with La Quercia Farms in Iowa, which provide FIG with acorn-fed, pasture-raised, organic Berkshire farm pigs. All parts of the animal are used and portions for such specialties such as prosciutto, pancetta, guanciale and spallacia will be sent to FIG over a span of time based on the curing process, resulting in the most flavorful and healthiest quality offerings.
FIG features the Cheese and Charcuterie Bar, including cheeses from local artisanal creameries such as Sonoma County's Bellwether Farms' sheep fromage blanc, Redwood Hill Farm goat's milk California crottin, and Laura Chenel's chevre. Berkeley-based Fra'Mani provides handcrafted charcuterie selections for the Bar, including mortadella, nostrano, soppressata and salami gentile. A fromageur provides recommendations and personal service, making the experience interactive and educational.
FIG's approachable wine list encourages guests to sample and discover wines from around the world. The restaurant features boutique vineyards such as Hendry in Napa Valley; Cole Bailey Vineyards in Mendocino; Hirsch Vineyards along the Sonoma Coast; and a wide variety of Oregon Pinot Noirs such as the family-run Et Fille Winery, Brittan Vineyards and Vidon Vineyard. An extensive wine-by-the-glass program offers great value and a comfortable setting to explore new varietals and such as Amarone, Gruner Veltliner, Bourgeil and Rioja.
Accommodating 92 guests and offering both indoor and outdoor seating, FIG's ambiance conveys a comfortable, neighborhood atmosphere. With the solo diner in mind, the signature pewter Bar is a prominent social spot. A communal table completes the Bar's layout with seating for up to 12 individuals.
FIG, an active part of the Santa Monica community, is located on Second Street between Wilshire Blvd. and California Ave. at the Fairmont Miramar Hotel & Bungalows with complimentary valet parking for diners. The restaurant is open Tuesday through Saturday for dinner. For reservations call (310) 319-3111. For more information, visit FIGSANTAMONICA.COM.
###