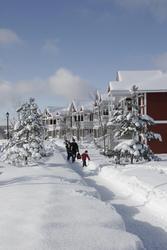 TripAdvisor travelers always appreciate great values, and 2009 is certainly no exception. The 2009 Travelers' Choice awards highlight more bargain properties than ever before with 190, nearly five times as many as last year
Barrie, Ontario (Vocus) February 5, 2009
Carriage Ridge Resort was chosen as a Top 10 Best for Families–Canada, Top 10 Best Bargain–Canada and Top 100 Best Bargain–World Hotel by TripAdvisor® in its 2009 Travelers' Choice® awards. Now in its seventh year, the TripAdvisor Travelers' Choice awards honor the world's best hotels, earning their distinction from those who know them best – real travelers.
Unlike any other hotel awards programs in the world, TripAdvisor® Travelers' Choice® winners are based on the millions of real and unbiased reviews and opinions about hotels on tripadvisor.com™ and content from across the web.
"TripAdvisor travelers always appreciate great values, and 2009 is certainly no exception. The 2009 Travelers' Choice awards highlight more bargain properties than ever before with 190, nearly five times as many as last year," said Michele Perry, vice president of global communications for TripAdvisor. "Millions of real travelers worldwide have helped identify these outstanding hotels, recognized for their exceptional accommodations, service, and value."
For reviews on Carriage Ridge Resort, please
click here.
For the complete 2009 Travelers' Choice list, please click here.
TripAdvisor guests are the result of an extensive rental program created on behalf of the developer and Shell Vacations Club (SVC), the company's points-based vacation ownership club. The rental program is totally facilitated and administered by Shell Vacations Hospitality, headquartered in Northbrook, IL Shell Vacations is one of the nation's most respected independent vacation ownership developers with more than 2,500 employees. The company specializes in the sales, marketing, and hospitality management of its vacation ownership resorts as well as the servicing of over 120,000 owners/members.
Visit Shell Vacations Club and Shell Vacations Hospitality for more information.
About Shell Vacations Hospitality:
Shell Vacations Hospitality offers a collection of 23 resorts, hotels and lodges ideal for family vacations, romantic getaways, retreats, reunions and business trips. Visitors may stay at hotels and resorts in popular destinations in the U.S. and Canada from San Francisco to Whistler. Shell Vacations Hospitality is a subsidiary of Shell Vacations LLC, a premier developer of upscale vacation ownership resorts.
About TripAdvisor Media Network
TripAdvisor® Media Network, operated by TripAdvisor, LLC, attracts more than 32 million monthly visitors* across 13 popular travel brands: TripAdvisor®, AirfareWatchdog, BookingBuddy, Cruisecritic, Frequent Flier, Holiday Watchdog, Independent Traveler, OneTime, Seat Guru, Smarter Travel, Travel-library, TravelPod and Virtual Tourist. TripAdvisor-branded sites make up the largest travel community in the world, with more than 25 million monthly visitors*, nine million registered members and 20 million reviews and opinions. Featuring real advice from real travelers, TripAdvisor-branded sites cover 300,000+ hotels and attractions and operate in the U.S., the U.K., Ireland, France, Germany, Italy, Spain, India and Japan. TripAdvisor® Media Network provides travel suppliers with graphical advertising opportunities and a cost-per-click marketing platform. Collectively, the sites comprising the TripAdvisor Media Network have won hundreds of awards and accolades from press and industry worldwide. TripAdvisor and the sites comprising the TripAdvisor Media Network are operating companies of Expedia, Inc. (NASDAQ: EXPE).
TripAdvisor is a registered trademark of TripAdvisor LLC in the U.S. and/or other countries. Other logos or product and company names mentioned herein may be the property of their respective owners.
© 2009 TripAdvisor LLC. All rights reserved.
*Source: comScore Media Metrix, July 2008
###